Industrial Ventilation with Solar Whiz
Solar Whiz's Commercial Warehouse Ventilation & Industrial Ventilation is the new benchmark for heat extraction!
When heat gathers in your commercial or industrial property, it quickly becomes uncomfortable. Large-scale properties such as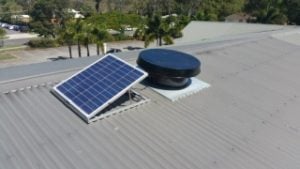 warehouses particularly feel the immense heat in summer, as insulation can be expensive, and difficult to install on such a scale. It's well-documented that poor air quality or uncomfortable heat reduces productivity, and can even pose a risk to stock in warehouses. Even worse, it can even cause heat illness if employees are exposed to high heat levels for too long.
Conventional roof whirlybirds only move around 100 m³/h (cubic metres of air per hour). To effectively ventilate a warehouse so that the interior temperature is near to the ambient temperature outside, you would need an absurd amount of whirlybirds. In terms of industrial ventilation, this isn't an effective solution.
Solar Ventilation – Taking Industrial Ventilation to New Heights!
"Our workshop is roughly 11,000 cubic metres and has recently had eight SW-RAF10000 units installed primarily to improve the air quality in our 32 vehicle bays. Since installation, our technicians have all reported a significant improvement in airflow and a reduction in workshop fumes. As we are in the tropics, even in winter the units run at full capacity for around 9 hours a day and during this period a slight breeze can be felt throughout the shop. We are waiting the return of summer in order to measure the anticipated reduction in temperatures within the workshop."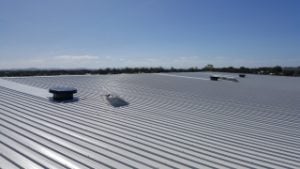 Solar Whiz's Commercial range are some of the most powerful commercial exhaust fans in the Australian market. Designed for the Australian climate, with the worst excesses of Australian weather in mind. Durable, tough, and capable of ventilating up to 10,000 m³/h with our largest model.
The Solar Whiz is designed with a sturdy fan cover that resists hail, and heavy rain. No matter the weather, you can be sure that Solar Whiz's industrial ventilation will keep you & your business well-ventilated and comfortable. Don't settle for a lesser alternative—invest in the future of ventilation.
Interested in finding out more? Shoot us a request for a commercial ventilation brochure!
An Effective Commercial Warehouse Ventilation Solution
Solar Whiz Commercial comes in two distinct sizes:
---
Model
SW-RAF10000
SW-RAF7000
Capacity
10,000 m³/h
7,000 m³/h
Fan Motor
10-26 Volt DC Brushless motor with double shielded ball bearings
Fan Decibels
70 dBA
68 dBA
---
the RAF in our Solar Whiz units stands for 'Real Air Flow'. This stands for the capacity of air that each Solar Whiz is capable of moving. The SW-RAF10000 for example is easily able to extract 10000 m³/h of air with a single unit. Depending on the type of commercial property you have, you may only need a few Solar Whiz units to adequately ventilate your roof space!
Commercial Warehouse Ventilation
If you have a warehouse, in many cases it may be vital to keep the entire warehouse space well-ventilated. Many products can be damaged by excessive heat, which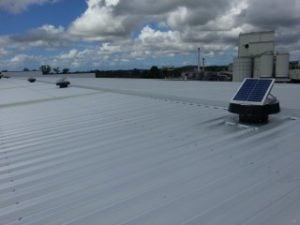 makes warehouse storage in hot climates especially difficult. Investing in industrial air-conditioning units will keep the space cooled, but will be absurdly expensive to run. Purchasing conventional rotary-style industrial whirlybirds can also help, though results show that these old designs are incapable of moving enough air on their own. On top of that, you would need to purchase many whirlybirds to adequately ventilate an entire warehouse.
Solar Whiz Commercial gives you powerful solar ventilation. They operate purely with the power of the sun, and can be wired to run overnight via a night operations kit. Conventional wind-driven turbines rely on the expansion of air to work—such as air being heated. Why let the air inside your warehouse warm up in the first place? Commercial warehouse ventilation is no struggle for Solar Whiz.
Solar Extraction & Industrial Ventilation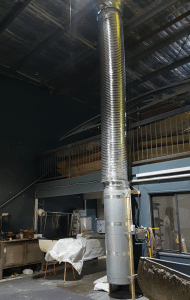 We've had customers install Solar Whiz industrial ventilators to exhaust and extract dust and fumes from their properties. The raw power of a Commercial Solar Whiz is able to keep toxic or unwanted fumes out of the industrial workspace, such as factories or chemical storage. Even commercial kitchens can benefit from Solar Whiz. Extracting oil or fumes is no issue for the SW-RAF10000's powerful potential. Solar Whiz's commercial exhaust fans have a variety of uses in the workplace, no matter your industry.
Solar Whiz Commercial has been used to extract noxious fumes from refuelling stations in order to prevent gas build-up. It has also been used to ventilate moisture and steam from swimming centres and spas, helping prevent algae or mould build-up.
Interested in finding out more about Solar Whiz Commercial? Check out our Commercial FAQ!
Cutting Costs on your Energy Bills with Solar Whiz Commercial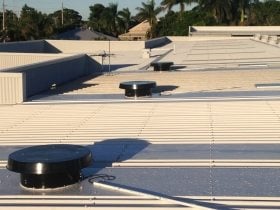 The Department of Industry & Science backed the publishing of The 20 Step Guide to Cutting Energy Bills in Your Business in early 2015. In amongst the many cost-saving tips provided in the guide was a couple of points regarding roof ventilation:
"Many business have used whirlybirds over the years, but some companies are now replacing them with solar-powered roof-cavity ventilators."

"Solar-powered roof-cavity ventilators have proven to be very effective in removing heat from enclosed roof spaces. The small solar panel drives the fan motor, which gives it a significant performance boost over the whirlybirds."
The Future of Industrial Ventilation
Solar ventilation has helped many residential homes become more environmentally-friendly. So why not consider it for commercial businesses? A Solar Whiz can help your commercial air conditioning and cooling, while also keeping air quality clean & well-ventilated.
Below are a number of articles & informative readings. Let these help guide you to a better industrial ventilation alternative with Solar Whiz Commercial.
Commercial Fans Comparison Chart —Roof Ventilation Blog, 2017
Air Change Rates for typical Rooms and Buildings —Engineering Tool Box
Suggested Air Changes for Good Ventilation—Greenheck, 2002
Recommended air changes for typical environments—Ricambi Aria