Exhaust Fan Installations Australia
Installing an exhaust fan for roof ventilation is a great source of ventilating for residential and commercial homes. It can sometimes be difficult to find the roof ventilator that's right for you, but for Australian homes, we've found that the Solar Whiz has had some fantastic reviews.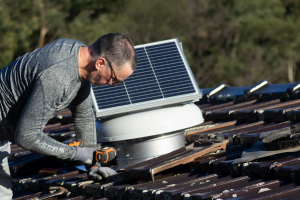 The Solar Whiz exhaust fans are built for Australian roofs, Australian homes and for Australian conditions. The Solar Whiz ventilation system draws hot air out of your roof space and rooms in your home. The number 1 concern for poor roof ventilation is that whirlybirds that are currently installed on Aussie roofs are not removing the air from their roof space. Exhaust fans are beginning to be used in a variety of buildings with applications, both commercial and residential.
Not only does the Solar Whiz extract air from your roof space and home to keep it cool, it also takes the pressure off your air conditioner and allows it to be much more efficient. We've seen up to 20% increases in air conditioner efficiency just by installing a Solar Whiz and having it run hand in hand with your air con!
Whirlybird Pricing Compared to Solar Exhaust Fan
Whirlybird pricing can vary extensively across Australia – however, a unit like the Solar Whiz exhaust fan can extract a lot more air than your standard whirlybird installation. Anyone who has the ability to install a standard whirlybird will find it easy to install a Solar Whiz exhaust fan unit onto their home. Solar Whiz can even ventilate commercial areas with our commercial exhaust fans range! If you have previous experiences with whirlybird installations you may be interested in installing Solar Whiz roof ventilation systems.
We've seen roof ventilation systems using the Solar Whiz solar exhaust fan in:
Gyms
Swimming Centres
Schools
Camp Sites
Sheds and much more!
The installation of your solar exhaust fan unit can be done by an experienced installer or can be DIY. It's not uncommon for people to use the instructions and install the units on their own homes. Check out our Solar Whiz dealers if you need an installation done.
Extraction Fan Thermostatic Control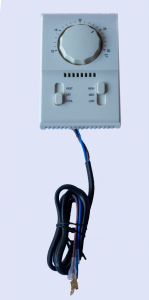 The Solar Whiz extraction fan is designed for the Australian market and is easily mounted on a tin or tile roof or in the gable to reduce the heat load on your ceiling by removing hot air from your roof space. Replacement air is best supplied through eave vents, gable vents or alternatively roof cowls.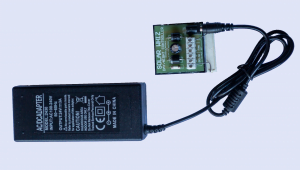 One of the most desirable features in a roof ventilation unit such as the Solar Whiz exhaust fan is that it comes with the option of an adjustable thermostat as well as a day/night pack. This means that when the temperature passes a certain level, your Solar Whiz will begin running. This is great when you only want your home or roof ventilated in warm weather, and to turn off during colder days.
Solar Whiz gable fans are also very effective for subfloor ventilation. A dedicated range of subfloor fans is also available. Additionally, the day/night pack is valuable when you choose to run the Solar Whiz unit at night when the sun is not providing the PV panel power. It will switch the Solar Whiz to mains power and will continue to run throughout those hot summer nights (which is when you need the Solar Whiz the most!).
Adjustable Solar Panel
One of the features which is very popular with the Solar Whiz (unlike the whirlybird and other alternatives) is that the roof ventilator can have its solar panel adjust to exactly where it needs to be, no matter where it's positioned. Upon installing you will be recommended by your installer/supplier where to place the unit for optimal results.
Looking for exhaust fans? Give us a call on 1300 609 994!