Solar Roof Exhaust Fans – Effective Roof Ventilation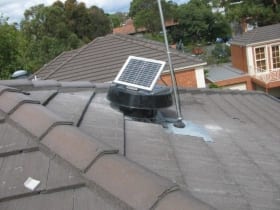 The simplest and most cost effective way to remove warm air from the home is by installing a solar roof ventilation extractor fan to remove heat from your roof space – i.e roof exhaust fans through roof ventilation.
We have the perfect house cooling solutions for a wide range of applications, in addition to commercial exhaust fans.
Wide Range of Extractor Fans
Solar Whiz has a wide range of extractor fans for solar cooling including Australia's most powerful roof extractor fan: the SW-RAF21000.
Solar Cooling Solutions for Home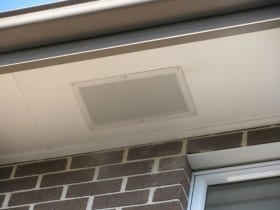 The most economical cooling solution for your home is to install a solar heat extractor.
Roof exhaust fans are most commonly mounted on the roof. However, Solar Whiz also has a range of Gable Mounted heat extractor fans, if it isn't practical or desirable to mount the extractor fan on the roof to obtain the required house cooling effect.
Roof Space Ventilation
When cooling your roof using a roof extractor fan, roof exhaust fans extract warm air from the roof space and cooler replacement air is pulled in – normally through eave vents – or other openings  in the roof space. If your home doesn't have any eaves – we recommend to use roof cowls for the replacement air.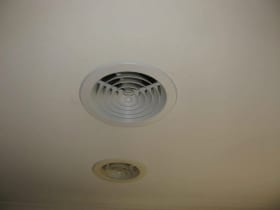 Replacement air may also be brought in through ceiling vents from the space below. Normally ceiling vents will only be supplying part of the replacement air, but if a part of the inside of the house is particularly hot (e.g. with windows facing the sun or upstairs) – sometimes all the replacement air may be drawn from these areas – either via a duct or simply through the vacuum created in the roof space by the roof extractor.
Please refer to our roof ventilation and home ventilation animations, which clearly demonstrate the operation of the Solar Whiz extractor fan.
Solar Cooling Alternative
In addition to the roof exhaust fan range for roof ventilation and roof cooling – GES also offers an In Ground Cooling System for Solar Cooling, which either takes fresh air – or recycles inside air – through a network of pipes buried in the ground to cool the air and provide house cooling for one room. This system does not work like an air conditioner, however it may be an alternative to air conditioning worth considering when evaluating house cooling options.
Solar Whiz exhaust fans cover a wide range of other applications. The best way to find specific information about other applications would be to refer to to our Roof Ventilation Applications page.