Solar Sub Floor Ventilation
How do you get rid of mould and condensation?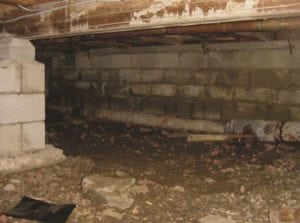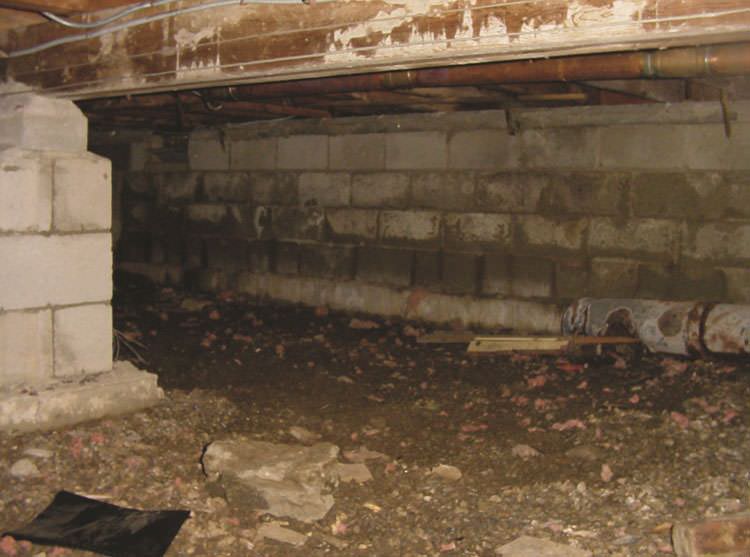 Chances are you haven't checked your subfloor space in a few years. Perhaps you're looking around online because you've been told your subfloor has seen better days!
A subfloor (or underfloor) is liable to get damp & musty if left unchecked. Without sub floor ventilation, you risk:
Mould, mildew or fungal growth,
Rising damp & condensation problems,
Rotting floorboards & foundation stumps,
Damage to internal walls & paintwork,
A perfect breeding ground for white ants, termites & borers!
High moisture levels can lead to irreversible damage to the structure of your house. Repairing your subfloor space is no cheap fix—so why risk having problems in the first place? If you have high humidity, poor indoor air quality, you're risking the health of the home occupants.
Solar Whiz offers powerful solar sub floor ventilation. We're serious about protecting & safeguarding your home's subfloor. Don't risk your greatest investment becoming an expensive repair job—no home subfloor should be a problem.
How does Sub Floor Ventilation work?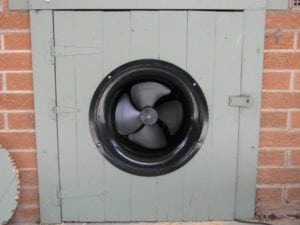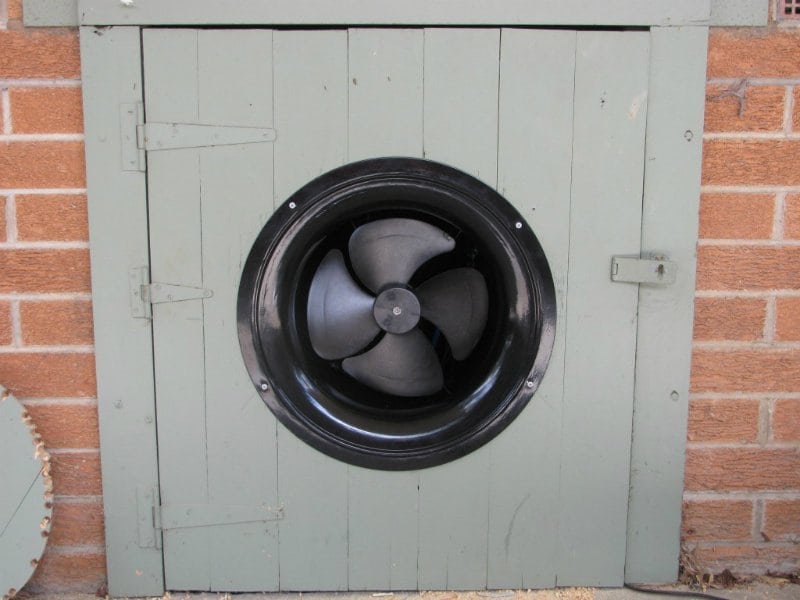 Solar Whiz offers a wide variety of fan kits, each suited towards extracting different volumes of air. Every home is different—some large, some small, some with lots of subfloor space, and some with none at all!
We offer a variety of fans, each of different sizes & ventilation capacity. We understand that subfloor vents need to cater to a wide variety of homes. In the scenario one of our fans doesn't fit, we can also make use of our other inline fans to tailor a subfloor vent solution just for you!
Our fans are connected to roof (or even wall-mounted) Solar PV cells. These ensure that your system runs when you need it most, and can even run in low-light conditions like overcast weather! If a Solar-style setup doesn't suit, we can even set up a 12-volt power pack plugged into a 240-volt powerpoint for underfloor ventilation all day long.
Currently, some of the Solar Whiz Sub Floor Ventilation fans that we offer are:
---
Model

SUB0700G

SUB0900G
SUB1400G
SUB2100G
Capacity
700 m³/h
900 m³/h
1,400 m³/h
2,100 m³/h
Fan Motor
10-26 Volt DC Brushless motor with double-shielded ball bearings
Fan Decibels
<40 dBA
<40 dBA
<45 dBA
<60 dBA
Dimensions
240, 275mm deep
500, 185mm deep
500, 185mm deep
500, 185mm deep
---
These fans are set up to draw air through subfloor vents set up around your subfloor. Depending on the home, we can offer a variety of installation methods to achieve the results you need. If you have a brick subfloor with little to no air intakes, we can map airflow through your subfloor space. We can duct, or we can even extract air through the roof via a roof-mounted Solar Whiz!
Methods for Sub Floor Ventilation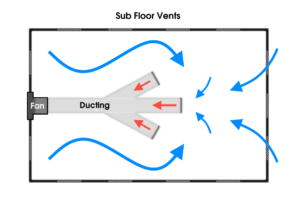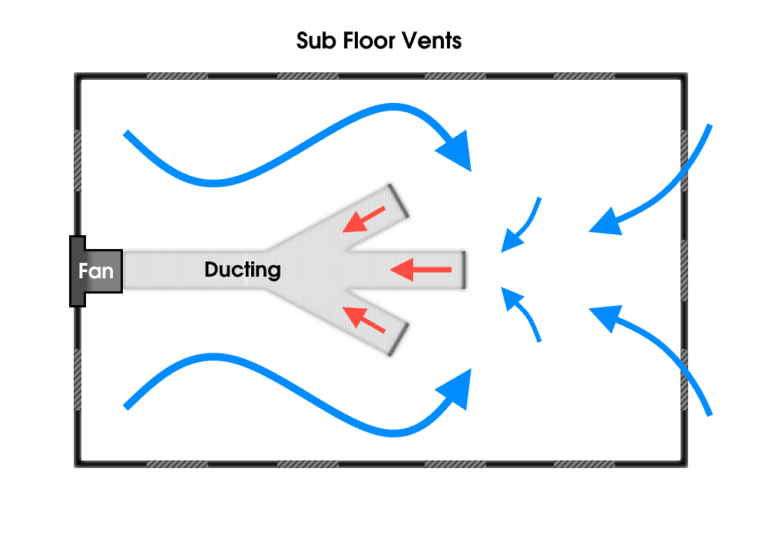 1) Bifurcation
By using a split ducting system, we can create multiple air intakes through your subfloor. This allows the subfloor extractor to draw air from multiple spaces of your subfloor, creating cross-ventilation that covers almost the entire floor space. This is one of our most popular installation methods.

2) Single Duct Extraction
A single duct allows you to channel air to specific locations of the house. If a single subfloor vent is installed, it will allow you to draw air from specific regions of the subfloor.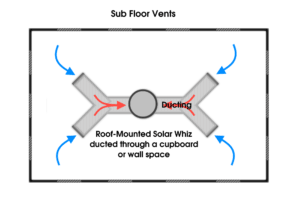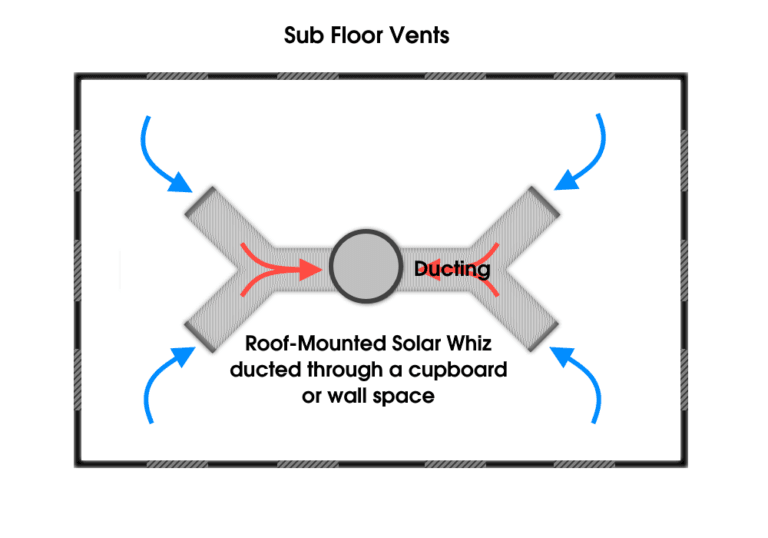 3) Roof-Mounted
If subfloor space is too limited, we can also offer roof-mounted subfloor ventilation. By ducting a Solar Whiz roof ventilator down to your subfloor, we can offer powerful extraction that won't be affected by limited subfloor space.

4) Push/Pull Method
If you have segmented subfloor space, or would like to map & channel airflow through your entire subfloor space, the push/pull method allows you to move air through the subfloor from one end to the other.
What else should I know about Sub Floor Ventilation?
If your subfloor ventilation requires more than just strong airflow, we can help you keep it dry with SAM: Solar Air Module! By ducting a SAM unit into your subfloor space, you can treat any moisture & damp issues with warm, dry air. This supplements any Solar Whiz Sub Floor Ventilation perfectly.
If you want your underfloor ventilation to run around the clock (not just when the sun is out!) then a constant current module is right for you. We simply add a module to the pre-existing solar system that allows your fan to top up power from mains electricity if the solar charge is depleted.
With a reliable Solar Whiz Sub Floor Ventilator, you don't need to worry about condensation or wet & dry rot. You simply have it installed, and have the peace of mind that your sub floor's health is in good hands. If you're interested in finding out more about Sub Floor Ventilation, check out our brochure.
Interested in getting your Sub Floor looked at? Contact us for a free, quick quote!