Our Range of Commercial Extractor Fans
Want to learn more about our products & how they work?
Solar Whiz provides 2 Commercial Extractor Fans. These are each suited toward particular commercial and industrial properties. The models we provide are.:
SW-AU-C-110,
SW-AU-C-155,
Our roof ventilators rely on RAF (Real Air Flow), a measurement system that determines the actual airflow capacity of a ventilator. Many roof whirlybirds and ventilators only state their Theoretical Capacity (TC), such as a standard roof whirlybird providing near to 100m³/h under optimal conditions. We test our units with all the components attached, not just the power of the fan itself.
Interested in reading into the specifications of our units? Check out our product list below, and click on them to discover how Solar Whiz works tirelessly to keep you cool!
Have a read of our '2023 Commercial Cost of Operation Fact-Sheet' document to see how Solar Whiz helps you keep your business cool while saving money!
SW-AU-C-110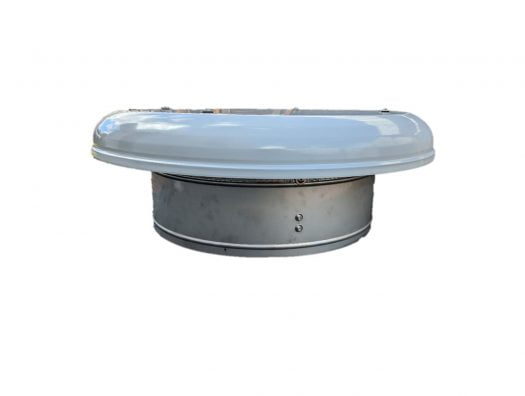 SW-AU-C-110
Equivalent to 2 industrial whirlybirds.
The Solar Whiz RAF (Real Air Flow) 110 is our smaller commercial unit. It can move up to 116,667 litres of air per minute, equal to 7,000m³/h.
Expanded SW-AU-C-110 Specifications
TOPIC
SPECIFICATIONS
Model
SW-AU-C-110
Capacity

7000 Cubic Metres per Hour (m³/h)

116,667 Litres of Air per Minute (L/m)

PV Wattage
110 Watt
Fan Decibel
<70 Decibels (dBA)
Dimensions
900mm × 300mm
Weight
8kg
Night Operations
Yes, with Constant Current Module (add-on)
SW-AU-C-155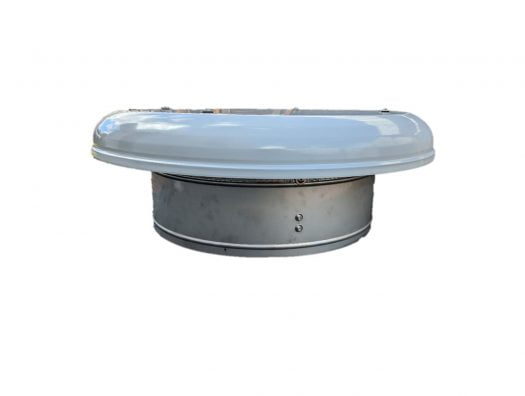 SW-AU-C-155
Equivalent to 4 industrial whirlybirds.
The Solar Whiz RAF (Real Air Flow) 155 is our largest commercial ventilator. It can move up to 166,680 litres of air per minute, equal to 10,000m³/h.
Expanded SW-AU-C-155 Specifications
TOPIC
SPECIFICATIONS
Model
SW-AU-C-155
Capacity

10000 Cubic Metres per Hour (m³/h)

166,680 Litres of Air per Minute (L/m)

PV Wattage
155 Watt
Fan Decibel
<73 Decibels (dBA)
Dimensions
900mm × 300mm
Weight
8kg
Night Operations
Yes, with Constant Current Module (add-on)
Commercial ventilation is essential for keeping staff comfortable & productive. More importantly, unventilated workplaces can lead to stock damage or loss—think of fruit packing or livestock!
It's important to take your industrial ventilation seriously. In a standard warehouse, temperatures can easily reach as high as 40°C to 50°C in Summer. This heat doesn't go anywhere if you can't extract it! Many businesses turn to industrial whirlybirds, only to find their performance underwhelming.
A Solar Whiz unit is one of the most powerful commercial roof ventilators on the market. On top of heat management, Solar Whiz assists with:
Mould & fungi prevention
Interested in finding out more about Solar Whiz? Check out our Whirlybird guide to find out why Solar Whiz trumps a whirlybird.
Solar Whiz Commercial Roof Vent Benefits and Features
Bushfire-Rated Units Available
Our Bushfire-Rated Units are meticulously designed to meet strict regulations for buildings in bushfire-prone areas, offering enhanced safety and protection for your property, ensuring your peace of mind.
SS316 units Available
We now offer 316 stainless steel units, carefully designed for coastal and corrosive environments. These units are ideal for installations exposed to salt spray or for moisture extraction such as spa and pool areas. These units ensure durability and optimal performance in challenging settings.
Combined Digital thermostat and Hygrostat (add-on)
Solar Whiz introduces a versatile digital thermostat/hygrostat combo, perfect for addressing condensation and moisture issues in industrial or commercial settings, especially when paired with our night operation feature. Yes, you can now also have a digital thermostat if you only need the Solar Whiz unit to operate based on the temperature in your building.
4x more powerful than commercial whirlybirds
Solar Whiz commercial products offer powerful airflow capacities of up to 10,000 cbm per hour. This makes our product 4x more powerful than industrial whirlybirds, ensuring maximum ventilation, heat, smoke and fume extraction for large commercial spaces.
Low Noise
Solar Whiz commercial have a low noise level of 70 dB making them a quieter and more effective ventilation solution for commercial spaces.
Durable and Weather-resistant
Made with high-quality materials like corrosion-resistant and weather-resistant materials (Stainless steel and aluminium components), Solar Whiz commercial roof vents are built to withstand tough Australian weather conditions and last for many years.
Improved Indoor Air Quality
Solar Whiz commercial remove moisture, reduce humidity, and remove pollutants from the air, resulting in a cleaner and healthier working environment.
Increased Energy Efficiency
Solar Whiz commercial reduces the need for cooling, increases indoor comfort and helps reduce energy consumption and lowering energy bills.
Prevents Condensation
The Solar Whiz commercial can help reduce or prevent condensation during the winter months, thereby protecting your commercial equipment and assets from damage.
Optional Thermostat and Night Kit
The optional thermostat allows users to control the temperature and ventilation of the commercial space, while the night kit ensures optimal ventilation during the night when needed.
Versatile Installation
Solar Whiz commercial can be installed in various configurations, making installation easy and versatile. Wall-mounted units are available as a special order.
Tiltable Solar Panel
The tiltable solar panel enhances the Solar Whiz Commercial's performance and efficiency by allowing it to capture maximum sunlight and generate more energy.
Easy to Install
The Solar Whiz Commercial comes with clear installation instructions, making installation simple and hassle-free.
Good Warranty and After-sales Support
The Solar Whiz products come with a long warranty and excellent after-sales support, ensuring peace of mind for customers in case of any issues or repairs.
Australian-made and operated
Solar Whiz products are proudly Australian-made and operated, providing customers with high-quality and reliable ventilation solutions. Your business will be supporting Australian businesses including Solar Whiz.