Solar Whiz is the most powerful solar exhaust fan & roof vent available in Australia.
How much? Get a Quick Quote today!
We offer Residential and Commercial Solutions
What is the Solar Whiz?
The Solar Whiz is a powerful solar roof ventilation & exhaust fan that operates completely without mains electricity. It is the ideal solar exhaust fan for roof ventilation & home cooling in summer, and great for reducing moisture levels and condensation in the roof space in winter. The superior performance, as well as its ability to suit different climates and applications, ease of installation, and a flexible design that specifically suits Australian roofs, have all underpinned the success for our solar roof ventilation system.
WHAT'S ROOF VENTILATION ALL ABOUT?
How Does The Solar Whiz Work?
The Solar Whiz roof ventilation unit and exhaust fan prevents heat build up in your roof space and reduces the heat load on your ceiling. This prevents heat from radiating down into your living space. This results in lower roof space temperatures as well as lower internal temperatures. Solar Whiz roof ventilation provides your family with a more comfortable indoor living space, whilst potentially saving you hundreds of dollars on cooling costs, if you're using air conditioning.
For the Solar Whiz roof ventilator to be effective in removing heat or moisture, replacement air must be accessible. Replacement air is most commonly accessed via eave vent or ceiling vents. Heat or moisture may also be extracted directly via ducting.
Eave Vent Roof Ventilation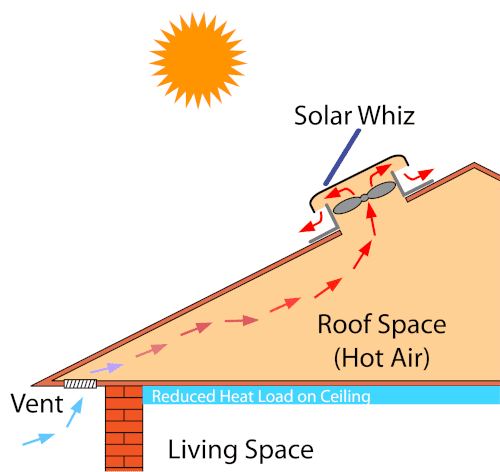 Solar Whiz extracts hot air out of your roof space, and replaces it with cooler ambient air from outside.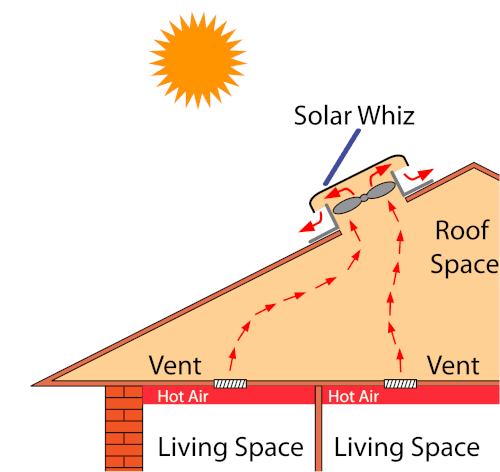 Solar Whiz systems can also extract air directly out of your home interior via ceiling vents.
Ducted Ventilation/Exhaust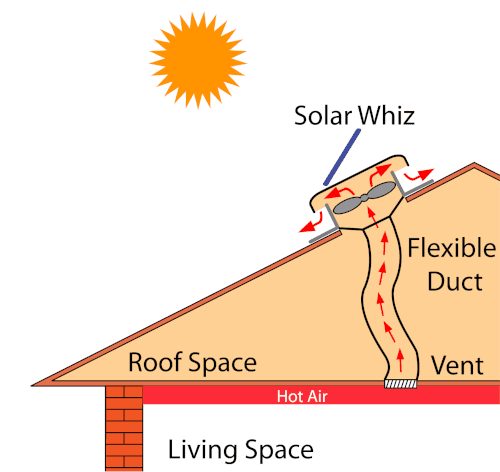 If you need specialized extraction, Solar Whiz can be set up with ducting.
Reducing Running Costs on Your A/C!
After installing the Solar Whiz roof ventilation system, the efficiency of your existing air conditioning system will also improve. Your air conditioner won't need to work as hard when operating and the actual running time will be reduced, as you won't need to run the air conditioner as often. Read more about how Solar Whiz roof ventilation can increase the air conditioning efficiency in your home or at work using commercial exhaust fans.
Main Applications & Key Features
Solar Whiz is a simple and effective roof ventilation system and solar exhaust fan with many applications and the ability to be installed in various ways.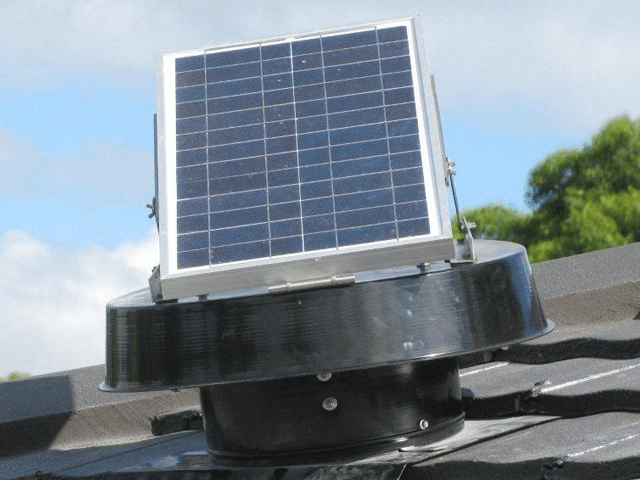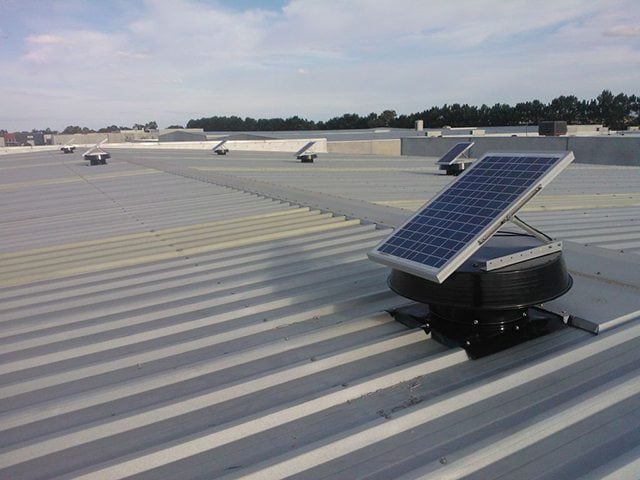 The Solar Whiz commercial exhaust fans and industrial extractor fans are ideal for factory ventilation and warehouse ventilation. They are a superior and economical solar commercial exhaust fan alternative to traditional wind driven industrial whirlybird fans.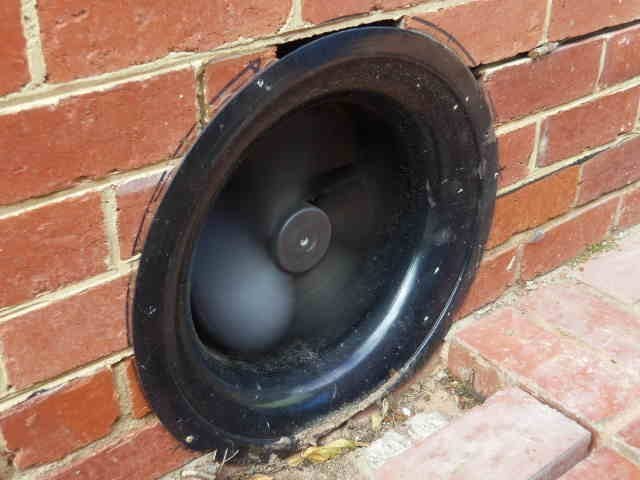 Sub floor ventilation is often the best place to start addressing mould & mildew issues, however it may not always be the complete answer to your damp issues – and if you don't have a subfloor – alternative methods for addressing damp issues may be required to improve the indoor air quality.
Those Are Just A Few Main Features, There Are Plenty More
Easy Installation & Setup
A Variety Of Sizes
No Running Costs
Commercial and Residential
DIY Available
Solar Powered
Reduces Heat Build Up In The Roof Space
Different Capacities Available
Thermostat Options Available
Up To x20 Times More Powerful Than A Whirlybird
Sleek and Flexible Design
Designed For Australian Roofs
Reduces Moisture Build Up
Fresh Air Contribution
No Carbon Emission
Quiet Operation
Sub-Floor Ventilation Alternatives
Safe Low Voltage Installation
Easily Tilt To Attract Ultimate Sun
No Electrician Required
Night Pack Available