Solar Whiz Commercial Exhaust Fans & Ventilation
BEAT THE STIFLING AUSSIE HEAT AND EXTRACT TOXIC FUMES IN YOUR BUSINESS!
Australian businesses often struggle with the relentless summer heat. The need for comfort and a safe work environment creates a demand for powerful and efficient commercial exhaust fans. Traditionally, business owners have steered towards using industrial whirlybirds. However, comparisons show that standard commercial whirlybirds are inefficient and do not meet modern requirements for airflow. Don't just take our word for it, either.
Many businesses avoid mains-powered industrial exhaust fans because they can be costly to install and operate. Solar Whiz introduced our highly efficient, and free-to-run Solar Whiz Commercial Exhaust Fans to the Australian market in 2014 in response to these problems.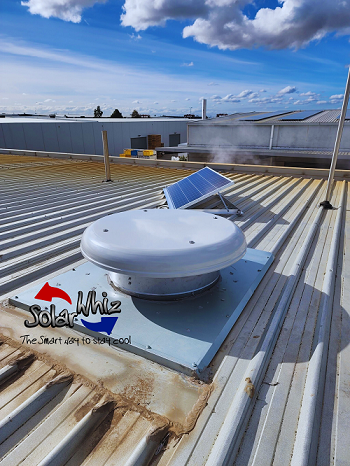 Solar Commercial Exhaust Fans – The Cost-Effective Solution for the Modern Business
"Our workshop is roughly 11,000 cubic metres and has recently had eight SW-RAF10000 units installed primarily to improve the air quality in our 32 vehicle bays. Since installation, our technicians have all reported a significant improvement in airflow and a reduction in workshop fumes. As we are in the tropics, even in winter the units run at full capacity for around 9 hours a day and during this period a slight breeze can be felt throughout the shop. We are waiting the return of summer in order to measure the anticipated reduction in temperatures within the workshop."

James Thomson (Auto Corner – Mackay)
Since the introduction of solar-based ventilation extraction fans to the Australian market in 2010, businesses around Australia have also been getting on board with solar ventilation. Solar Whiz Commercial brings industrial exhaust fans to a new level of efficiency. Even our higher-end residential models such as the SW-AU-R-40 can compete & compare with the average industrial whirlybird. Furthermore, they are also far easier to install and offer better ventilation results.
Solar Whiz runs entirely on solar power, ensuring that you aren't spending a single cent on running costs. Even when sunlight isn't prevalent, or on rainy days, Solar Whiz will still be running! Check out a demonstration here!
Why Use Solar Industrial Exhaust Fans Over Other Technologies?
Solar Whiz Commercial outperforms conventional whirlybirds and even stands shoulder to shoulder with other major brands of powered commercial roof ventilators. Check for yourself here!
In addition, a great option for Solar Whiz Commercial is the ability to 'top-up' the solar power from the PV panel with mains power. This keeps the exhaust fan running at full capacity in overcast conditions. The constant current Night Operations Kit also enables you to run Solar Whiz at night—perfect for storage warehouses or factories that generate large amounts of heat or handle sensitive materials.
On top of this, Solar Whiz Commercial Exhaust Fan comes with an adjustable PV panel. This is easily installed on almost any roof type, and adjusted to face North or North West to optimise the operation for your specific requirements. This way you get the most out of your exhaust fan at all times of the day. By keeping warm air out of your industrial or commercial business space, your air conditioning can run far more efficiently.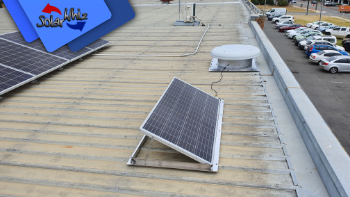 Commercial Exhaust Fan Options
"Yes it cools the area considerably. From memory the room went from mid 40's to high 30's – around a 7 degree drop…"

Sam Bevis (Aluminium Balustrades – North Coast)
Solar Whiz Commercial currently provides two distinct models:
---
Model
SW-AU-C-155
SW-AU-C-110
Capacity
10,000 m³/h
7,000 m³/h
Fan Motor
10-26 Volt DC Brushless motor with double shielded ball bearings
Fan Decibels
73 dBA
 70 dBA
---
Fume & Oil Extraction With Solar Industrial Exhaust Fans
A significant application for a Solar Whiz Commercial Exhaust Fan is dedicated industrial ventilation and extraction. This is apparent in industrial situations where fumes, dust, or steam can be problematic or even detrimental to health in the workplace. By using Solar Whiz Commercial extractor fans as dedicated industrial exhaust fans, you have a powerful, reliable ventilation solution.
Solar Whiz Commercial is fantastic for your exhaust fan needs.
Solar Whiz Industrial Exhaust Fans Benefits:
Solar Whiz Industrial Exhaust Fans are Energy-efficient
– Powered by solar energy, reducing energy costs and carbon footprint
– Highly efficient and effective at ventilating commercial spaces
– Can operate even on cloudy or overcast days
– Operates silently, reducing noise pollution
Solar Whiz Industrial Exhaust Fans are Cost-effective
– Lower initial cost than traditional exhaust fans due to solar power source
– Significant long-term cost savings compared to traditional exhaust fans
– Longer lifespan than traditional exhaust fans, meaning less frequent replacement costs
Solar Whiz Industrial Exhaust Fans Improve Indoor Air Quality
– Removes stale air and odours from commercial spaces, improving overall air quality
– Can reduce the risk of health issues caused by poor indoor air quality, such as headaches, allergies, and respiratory problems
– Reduces the buildup of harmful gases and toxins
– Helps prevent the spread of airborne illnesses
Solar Whiz Industrial Exhaust Fan Improves Employee Comfort and Productivity
– Provides fresh air and removes stale air, leading to improved employee morale
– Improves air circulation, reducing temperature differentials and hot spots
– Reduces the risk of heat stress and other health issues caused by poor ventilation
– Reduces employee absenteeism due to illnesses caused by poor air quality
– Reduces fatigue and increases productivity due to improved air quality and employee comfort
Solar Whiz Industrial Exhaust Fan Reduces Moisture and Humidity
– Reduces moisture and humidity, preventing mould and mildew growth
– Increases the lifespan of building materials and equipment by reducing exposure to moisture
– Improves occupant comfort by reducing stuffiness and musty odors
Solar Whiz Industrial Exhaust Fans are in Compliance with Building Codes and Regulations
– Meets ventilation requirements of building codes and regulations
– Helps ensure a safe and healthy work environment for employees
– Helps prevent fines or penalties for noncompliance with regulations