Exhaust Fans Installation Australia
REMOVE HOT AIR AND POLLUTION FROM YOUR HOME OR BUSINESS!
Installing an exhaust fan for roof ventilation is a great source of ventilation for residential homes and commercial properties. It can sometimes be difficult to find the roof ventilator that's right for you, but for Australian homes, we've found that the Solar Whiz has had some fantastic reviews.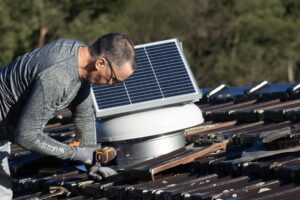 The Solar Whiz exhaust fans are made in Australia, for Australian roofs, Australian homes, and for Australian conditions. The Solar Whiz ventilation system draws hot air out of your roof space and rooms in your home.
Solar Whiz has a wide range of extractor fans for solar cooling including Australia's most powerful roof extractor fan: the SW-AU-R-40. The number 1 concern for poor roof ventilation is that whirlybirds that are currently installed on Aussie roofs are not removing the air from their roof space. Exhaust fans are beginning to be used in a variety of buildings with applications, both commercial and residential.
Not only does the Solar Whiz extract air from your roof space and home to keep it cool, but it also takes the pressure off your air conditioner and allows it to be much more efficient. We've seen up to 20% increases in air conditioner efficiency when it is running with a Solar Whiz installed.
Solar Cooling Solutions with Exhaust Fans
The most efficient and economical cooling solution for your home is to install a solar heat extraction fan.
Roof exhaust fans are most commonly mounted on the roof. However, Solar Whiz also has a range of Gable Mounted heat extractor fans if it isn't practical or desirable to mount the extractor fan on the roof to obtain the required house cooling effect.
When cooling your roof using a roof extractor fan, the roof exhaust fan extracts warm air from the roof space and cooler replacement air is pulled in – normally through eave vents – or other openings in the roof space. If your home doesn't have any eaves, we recommend that you use roof cowls for the replacement air.
Replacement air may also be brought in through ceiling vents from the room below. Normally ceiling vents will only be supplying part of the replacement air, but if a part of the inside of the house is particularly hot (e.g. rooms with windows facing the sun or upstairs) – sometimes all the replacement air may be drawn from these areas – either via a duct or simply through the vacuum created in the roof space by the roof extractor.
Please refer to our roof ventilation and home ventilation animations, which clearly demonstrate the operation of the Solar Whiz extractor fan.
Whirlybird Pricing Compared to Solar Exhaust Fans
Whirlybird pricing can vary extensively across Australia – however, a unit like the Solar Whiz exhaust fan can extract a lot more air than your standard whirlybird installation. Anyone who has the ability to install a standard whirlybird will find it easy to install a Solar Whiz exhaust fan unit onto their home. Solar Whiz can even ventilate commercial areas with our commercial exhaust fans. If you have previous experiences with whirlybird installations you may be interested in installing Solar Whiz roof ventilation systems.
The installation of your solar exhaust fan unit can be done by an experienced installer or can be DIY. It's not uncommon for people to use the instructions and install the units in their own homes. Check out our Solar Whiz dealers if you need an installation done.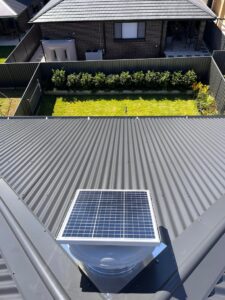 Solar Cooling Alternatives
At Solar Whiz we encourage you to look at the competitors and see why Solar Whiz could be the most beneficial for your home and wallet!
Learn more about why the airflow differs between roof ventilators:
| | | | | | | | |
| --- | --- | --- | --- | --- | --- | --- | --- |
| Specifications | Solar Whiz | Whirlybird | Edmonds Odyssey | Solar Vent | Solar Ark SAV-20T | Solar Star | Skydome Powervent SMV300 |
| Power Source | Solar | Wind | Wind/electrical | Solar | Solar | Solar | Electrical |
| Air Flow Capacity (cbm/h) | 1200-2300 | Est. 100 | 2100 | 2600 | 2718 | 1200-1600 | 800 |
| Estimated Whirlybird Airflow | 12-23 times (depending on model) | 1 | 21 times | 26 times | 27 times | 12-16 times | 8 times |
| Noise level | <40-55 dB(A) | Unknown | 30 dB(A) | Unknown | Unknown | Unknown | Unknown |
| Weight Estimate | 7-12kg | 1-2kg | Unknown | | Unknown | Unknown | Unknown |
| Adjustable Solar Panel | Yes | No | No | Fixed | Yes | Fixed | No |
| Flashing | Flexible aluminium | Flexible aluminium | Soft aluminium | Flexible aluminium | Mouldable base | Moulded plastic | Unknown |
| Optional Thermostat | Yes (Adjustable) | No | Yes | Yes | Yes | Yes | Yes |
| Night Operation | Yes | Yes | Yes | No | No | No | Yes |
Solar Whiz Exhaust Fans Benefits:
Eco-friendly: The use of solar power is a clean and sustainable energy source, which reduces your carbon footprint and helps to protect the environment.
Cost-effective: As our exhaust fan runs on solar power, it doesn't rely on electricity from the grid, which can result in significant cost savings on your energy bills.
Improved air quality: The exhaust fan's ability to move stale air out of the room and replace it with fresh air can help to improve indoor air quality and reduce the risk of respiratory problems.
Reduced humidity: High humidity levels can lead to mould and mildew growth, which can cause health problems and damage to your home. Our exhaust fan can help to reduce humidity levels, keeping your home dry and comfortable.
Easy installation: Unlike traditional exhaust fans, Solar Whiz doesn't require any wiring, making them easy to install and use.
Long lifespan: Solar Whiz is Australian-made and uses durable and weather-resistant materials. Our exhaust fan can withstand harsh weather conditions, providing long-lasting performance.
Enhanced comfort: Solar Whiz exhaust fans enhance indoor comfort by reducing the temperature, increasing air circulation, and lowering humidity levels through the use of solar-powered ventilation. While the optional thermostat allows you to set the desired temperature range and turn the system on and off automatically based on the temperature inside the building which is highly useful in colder months.
Increased indoor comfort: By moving stale air out of the room and replacing it with fresh air, our solar-powered roof exhaust fan can help to regulate temperature and reduce humidity levels, creating a more comfortable indoor environment for people living in the house. This can be especially beneficial during hot and humid weather conditions, as the exhaust fan can help to circulate air and maintain a cooler, more comfortable indoor space.
Increased home value: Installing a Solar Whiz roof exhaust fan can add value to your home, as it shows that you're committed to sustainability and energy efficiency.
Peaceful indoor environment: The low noise level of our exhaust fan ensures that it doesn't cause any disruption or annoyance, providing a peaceful and comfortable indoor environment for everyone in the house. This can be especially important for those sensitive to noise or requiring a quiet environment for work or study.
What about Exhaust Fans for Commercial Properties?
While we provide powerful solar roof ventilation solutions for your home, we also have a commercial ventilation line! We've designed them to properly ventilate the extreme heat that large-scale properties can produce. On top of that, our commercial exhaust fans are excellent at adequately ventilating fumes for industrial businesses. Our solar commercial ventilators come in two sizes:
the SW-AU-C-110, capable of moving 7,000 m3/h (cubic metres of air),
and the SW-AU-C-155, capable of moving a whopping 10,000 m3/h!
If you're thinking of buying cheap whirlybirds to help ventilate your commercial building, consider a Solar Whiz instead! You'll be feeling the difference during those hot summer days.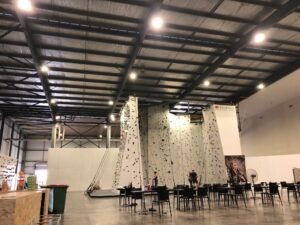 Frequently Asked Questions
Are attic exhaust fans worth it?
Not only will it feel cooler inside, but your AC will last longer because it will not need to cycle as frequently. AC that cycles less, costs less, so an attic exhaust fan can help you save money on cooling costs in the summer. Additionally, attic fans have been demonstrated to help extend the life of the roof.
Why are exhaust fans a must-have for your home?
It keeps moisture and humidity from accumulating in a particular place, like bathrooms, which are notoriously prone to mould and mildew growth. Fortunately, with an exhaust ceiling fan, you may enjoy sufficient ventilation while avoiding long-term damage and even health problems.
What is the difference between extract fan and exhaust fan?
Exhaust fans function similarly to extractor fans in that they remove air and vent it outside, however larger exhaust fans are not appropriate for use in a home.
What does solar powered exhaust fans do?
Solar exhaust fan like the Solar Whiz exhausts moisture and humidity from your home, contributing to a more comfortable living environment. It lowers your roof temperature, cutting air conditioning reliance, and reducing energy expenses
Is it possible to cool down the room with a roof exhaust fan?
Using a roof exhaust fan to cool down your room without running the air conditioner as much is possible, as it extracts excess heat out of your roof space.