Solar Commercial Fans Installation
Port Douglas Aged Persons Home (Mossman, QLD)
Supplied and installed by our Queensland dealer:
April, 2012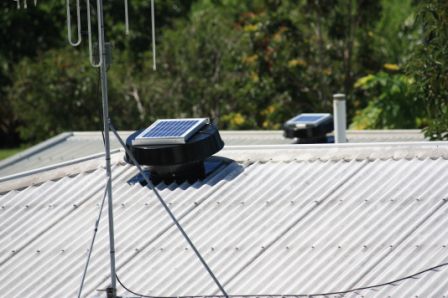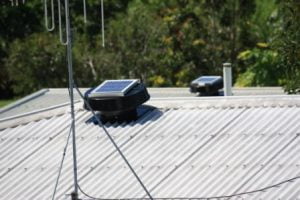 In 2012 the Cairns Regional Council funded the installation of 18 roof-mounted Solar Whiz solar commercial fans units onto the Douglas Shire Multipurpose Health Service and Aged Care Facility in Mossman, QLD.
The goal was to extract the accumulating heat from the roof cavities of the residential units in the facility. This would subsequently increase the efficiency of the existing cooling systems. This goal has successfully been achieved with the installation of the Solar Whiz industrial fan units. The project has proved so successful they are now expanding the original scope of the project.
Commercial fans from Solar Whiz are powerful and effective enough to ventilate many large commercial and industrial spaces. This includes schools, aged person homes (as in this example), warehouses, factories and offices. Our solar commercial fan range is significantly more powerful compared to industrial whirlybirds or Haiku fans. Solar Whiz commercial fans (SW-RAF10000), are as strong and effective as any powered big ass fans.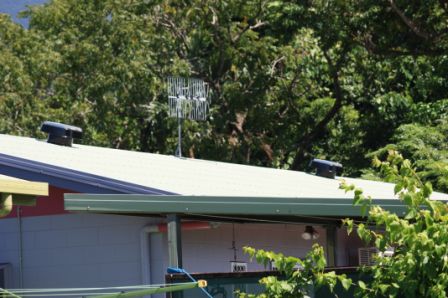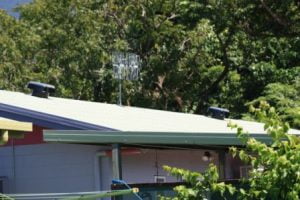 Ventilation is needed in commercial spaces for many reasons. Many businesses and corporations turn to powered air conditioning or Big Ass Fans as a solution to hot and stuffy spaces. However, these systems are notorious for high energy costs and minimal results.
Our units effectively reduce the heat load in the roof space and ceiling. This creates a fresher living and working environment for homes and workplaces. Many of our customers find that they hardly need to run their air conditioner at all after installing Solar Whiz!
Our solar industrial fans can operate all day and night to ventilate and introduce fresh, cool air into your commercial space. Our solar-powered system can be operated with zero running costs during the day, even in overcast conditions!
Installing an additional day/night operations kit allows you the added convenience of switching the system to mains electricity at night. This lets you run Solar Whiz at night with a fraction of the cost associated with running other HVAC systems.
To find out more about this project please cGES on 1300 609 994 or contact us here.