Solar Whiz Solar AirConditioners
The roof temperature in your home can quickly climb up to 60-70 degrees in an Australian summer, depending on your roof type and colour!
The Solar Whiz airconditioners work by drawing in high volumes of air (1,200m³/hr for a SW-RAF-R-1200 domestic model), this eliminates the heat build up and reduces the heat load on your roof space. The heat in the roof space is radiated back down on lower ceilings or directly. Solar Whiz will save energy by keeping consistent lower internal temperatures, cleaner internal air and you won't need to run your air conditioning as often.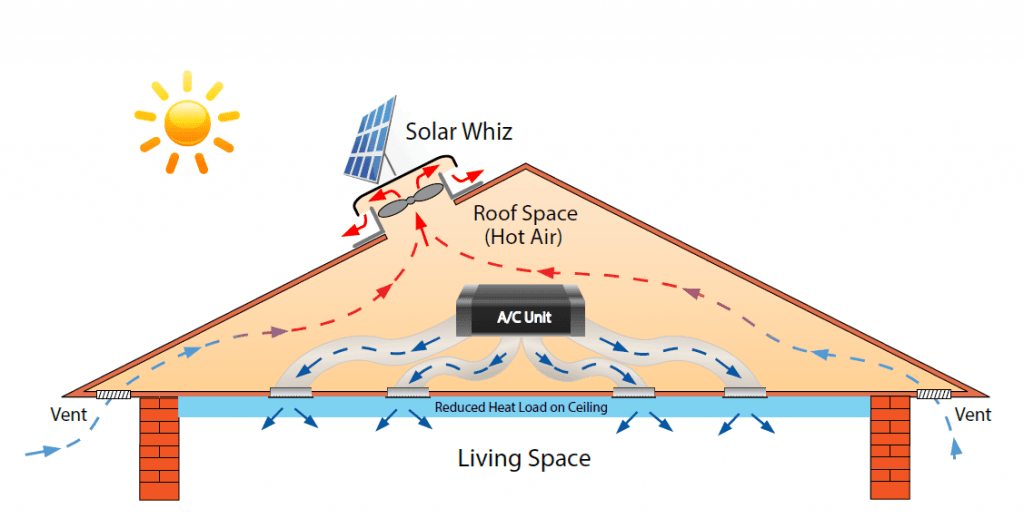 Roof ventilation is a simple and efficient way to ensure that you have energy saving airconditioners and the lowest possible cost for operating your air cooling systems. The Solar Whiz will runs cost free, every day with zero carbon emissions. Designed to fit walls and most roof types, the Solar Whiz is ideal for house cooling, has a lightweight body and is maintenance free.
Easily achieve a cool home  with a Solar Whiz used in conjunction with your existing airconditioners system! There's no running costs as the Solar Whiz is solar powered ventilator and uses natural ventilation with eave vents to achieve fresh, cool air in your home.
Solar Whiz Saves Energy on Your Airconditioners
Be more energy efficient with a Solar Whiz. Our alternative to airconditioners extracts hot air in your roof space and around your existing cooling units and ducting. Then it replaces it with fresher, cool outside air, allowing you to use your A/C system less and it does not have be on all day or work hard.
A 20% increase in efficiency of your original airconditioning system is highly likely. The actual increase in efficiency of your air conditioning system as a result of installing a Solar Whiz roof ventilation fan is of course determined by the temperature drop in the roof space, which can be affected by the quality of the insulated ducting used in your A/C installation.
The solar airconditioners create fresh, cool air in your home and extremely hot air is brought outside via vents. The Solar Whiz can work for your whole home and can operate completely standalone or complimenting an existing air conditioning unit.  Solar airconditioners are ideal for home ventilation, sub-floor ventilation and commercial ventilation.
The Solar Whiz is designed as a high speed fan with low noise. Get a free quote from our quick quote form.