Solar Whiz Commercial — Rockface; Indoor Rock Climbing Facility
Case Study
Business
Rockface, WA
Region
Balcatta, Western Australia
Client's Needs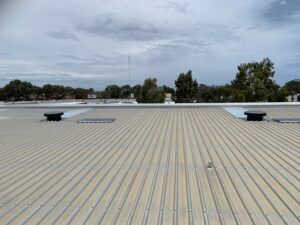 This indoor Climbing gym in the north of Perth needed a ventilation system to help keep the large open indoor space cool. The climbing gym operates in an open plan, large industrial shed with 9m high ceilings and 1325 m2 floor space. The north and west sides of the building are exposed to direct sunlight during the day. All these factors contribute to a pretty hot indoor environment and make it hard to climb comfortably.
Perth was experiencing a heat wave with temperatures over 40 degrees Celsius when the enquiry was made. The excessive heat quickly made it very clear that Rockface needed a ventilation system to cope with the high levels of stale heat building up inside their centre.
The Solution and Results
2 out of the initially recommended 9-10 Solar Whiz Commercial units were installed due to budget restrictions. By strategically locating the 2 fans above the facility's main climbing walls, Elevage Group was able to maximise the effect that the fans could have on the centre because the heat is extracted directly from the areas that need it most. In addition to the Solar Whiz units, Rockface has a 7.3m Big Ass Fan to help generate more airflow and remove the stagnant heat that was building up. Rockface has been very happy with the system's performance, with significant improvements in the temperature and air quality inside.