Compare SW-RAF700 to Edmonds Maestro Ventilator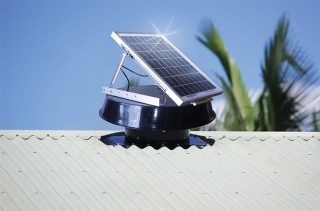 Edmonds Maestro power vent has been dominating the market for roof ventilation for many years! However, the Edmonds Maestro roof ventilators are expensive and times are changing – in today's environment a product must be cost effective and simple to install!
One Edmonds Maestro exhaust vent really isn't powerful enough and doesn't have the capacity to effectively ventilate a roof space of an average house – so for a house you will need much more than one Edmonds Maestro roof ventilator – meaning multiple costly installations – but in most cases you can get your roof ventilation job done with just one Solar Whiz roof ventilator!
So, why would you purchase an Edmonds Maestro Power Vent – when you can get a Solar Whiz SW-RAF700?
• Solar Whiz SW-RAF700 has twice the capacity of an Edmonds roof ventilator
• SW-RAF700 is solar powered – Edmonds requires a power point in the roof space
• Edmonds power vent has an optional solar panel – the SW-RAF700 is supplied with PV panel
• Yet – SW-RAF700 is still a lot cheaper than the Edmonds powered roof ventilation
• If you don't have a power point available, installing the Edmonds will require an electrician
• SW-RAF 700 exhaust fans do not require an electrician for installation
Why pay more for an Edmonds Ventilation Fan – with half the capacity?
Don't just take our word for it! Check out the Edmonds power vent prices for yourselves to confirm that you will pay at least 25% more for an Edmonds Maestro roof ventilator than you will for an SW-RAF700 solar powered roof ventilation solutions, with twice the airflow capacity.
Here is a link to start with: Edmonds Maestro
Want to know more about ventilators from independent sources?
There is a lot of information out there on the web. At present multiple forums are discussing roof ventilation alternatives covering: whirlybirds, powered fans (like Edmonds Maestro roof ventilator) and solar powered roof ventilation fans like Solar Whiz.
Here are a couple of forums to get you started!
Do Whirlybirds work? ATA Forum
Do whirlybirds work? (Whirlpool Forum)
Edmonds Maestro roof ventilator vs Whirlybird (Whirlpool Forum)
Roof Ventilation Blog
Don't hesitate to give us a call or send us an email – if you have any questions regarding comparing Solar Whiz and Edmonds Maestro roof ventilation fan!