What is a Solar Fan for Roof Ventilation?
Solar roof ventilation fans are solar-powered fans that extract hot air from your roof space and replace it with fresher and cooler air from outside. They are the perfect solution for home roof ventilation. As we've mentioned a lot in our blog posts and across our site, your roof space can easily reach more than 70°C during summer. This kind of heat can then transfer down into the living areas of your home, making it uncomfortably hot and humid inside. Extreme heat in your roof space can also warp wooden structures, therefore threatening the safety of your home. Fortunately, we are specialists in solar roof ventilation for homes and have the product you need to stay cool and comfortable!
At Solar Whiz we are proud to offer some of the best solar roof fans available on the market. We have market-leading airflow ratings and our solar fans are manufactured and built in Australia.
Do Solar Roof Vents Work at Night?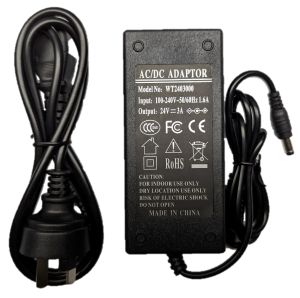 At their base level, solar fans do not operate during the night. Without sun on the solar panels, there is no power to run the fan. However, Solar Whiz offers an optional Night Operations Kit that lets you run the system overnight. It works like a mains power backup system, letting the solar fan switch over to mains power when there isn't enough light to power it. Our night operations systems use a 24-Volt power supply connected to a power point in the roof space. If there is no available powerpoint you will need an electrician to install it for you.
Using a night operations kit (also known as a Constant Current Module) to power the solar attic fan overnight can be a good way to remove any of the remaining heat from the day. It can also be a great way to get a 'head-start' on ventilating your roof space. That's because you can introduce cooler air into your roof space before the sun comes up and starts heating the roof.
A constant current module may be used to keep the solar fan operating at full capacity in cloudy, rainy, or otherwise less than ideal conditions. Because it acts as a backup system, the unit will only ever draw the mains power energy it needs to 'top-up' the fan. This is a great way to get the most out of your solar fan with almost no additional costs.
Is Solar Roof Ventilation for Homes Noisy?
No, Solar Whiz solar attic fans are not noisy. We have measured the sound of our solar fans as follows:
The SW-AU-R-15 – <40 Decibels (dBA)
The SW-AU-R-28 – <45 Decibels (dBA)
The SW-AU-R-40 – <60 Decibels (dBA)
The SW-AU-R-15, SW-AU-R-28, and SW-AU-R-40 are our residential solar fan units. Our smallest unit can generate sounds of around 40dBA, which is roughly equal to the sound a fridge makes when it's running. Our largest (and loudest) solar fan unit only creates sounds around 60dBA, which is about the noise level generated by a regular conversation. Because solar attic fans are installed on the roof of your house the noise that they do make usually can't be heard at all from inside.
How Much is a Solar Vent?
Solar attic fans vary in price depending on the size and capacity of the unit. Larger solar fan units will be more expensive than smaller units.
Additionally, you tend to get what you pay for. Cheaper solar fans tend to be made from cheaper materials that are prone to wear and tear and other damage. If you're curious about our prices, fill out our solar fans price-check form or complete our no-obligation quote form
How Many Roof Vents Should a House Have?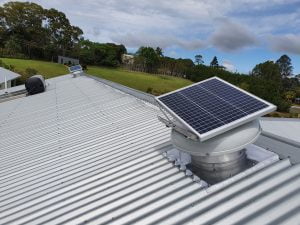 Our recommendations are personalised to the needs of individual customers. Different house sizes and shapes will need to consider different ventilation aspects. However, a good rule of thumb for our product range is as follows:
For spaces up to 120m2 we generally suggest the SW-AU-R-15 solar roof fan.
For spaces up to 180m2 the recommended unit would most likely be the SW-AU-R-28 solar roof fan.
For spaces up to and more than 250m2, the SW-AU-R-40 solar roof fan is probably the most suitable option
It is important to consider that these recommendations might change depending on the climate you live in, the shape of your roof space, and the amount of heat or moisture generated by household activities.
To receive a more accurate suggestion for the number of roof vents you need, get in contact with us directly! We are confident that our solar fans can offer you the ideal solution for solar roof ventilation for homes.
Frequently Asked Questions
How do I keep my roof cool?
The free-to-operate solar-powered Solar Whiz roof vent is a highly effective way of reducing roof space temperatures and therefore the workload for the air conditioning system and the heat gain in the ducting are significantly reduced.
Are roof ventilators worth it?
Yes! Roof Ventilators are effective and efficient ways to help regulate your property's temperature. Solar Whiz roof ventilators cool your home in summer and reduce moisture and prevent condensation in winter.
Do solar roof ventilators work?
Installing solar roof ventilators is a great approach to improving airflow, keeping your roof space cool, lessening moisture buildup and dampness, and supporting the environment. The extremely efficient self-powered device that controls indoor temperature and airflow using solar energy is gaining popularity.
Are solar air vents worth it?
Solar air vents can help you stay cool in summer and keep your home temperature more comfortable all year round. Solar roof vents extract heat from your home's structure and roof cavity. Prevents the deterioration of your roof cavities and building materials. Lowers air conditioning costs.
How much does a solar roof vent cost?
A high-quality solar roof vent costs between $400 – $900. Customers should expect that this product will last.