Solar Whirly Birds for Cabin Ventilation & Mobile Home Ventilation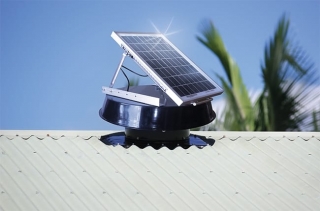 Looking for solar roof ventilation or solar cooling? Solar Whiz may be the most cost-effective whirlybird alternative and roof ventilation solution you need for:
Holiday parks
Mobile homes
Cabins
Portables
Relocatables
Containers
The Solar Whiz SW-RAF700 cabin fan is a whirlybird alternative that is a simple and effective way to ensure cabin ventilation and/or to cool and ventilate other smaller buildings, protecting against mould and musty smells, whilst saving you money!
The Solar Whiz cabin fan whirlybird effectively reduce the heat load on your cabin, helps you cool the temperature inside portables or mobile homes and keep them fresh and dry.
Benefits of Solar Powered Whirly Birds – Portable Home Ventilation
Increased comfort
Reduces heat load and temperature
Keeps portables, cabins, etc fresh and dry
Solar powered/No running cost
Prevents or reduces mould and mustiness
Reduced maintenance and daily workload
No need for expensive and/or labour intensive dehumidifiers
Lower internal temperatures and reduced A/C usage
No unsightly multiple whirlybirds on roof needed
Optional night operation available!
Designed for Australian Holiday Park Accommodation & Relocatables
The SW-RAF700 is designed for Australian roofs and easily mounted on a tin or tile roof to reduce the heat load on your ceiling by removing hot air from your roof space or to extract warm and moist air from the interior.
The compact SW-RAF700 is designed for use in caravan parks for ventilation of mobile homes, cabins and other smaller buildings, such as granny flats, portables and relocatables. Cabin ventilation with a solar whirlybird is essential to keep these buildings fresh and free of musty smells.
Roof  Vents & Whirly Birds for Cabins
If your cabin has a ceiling or roof space – the SW-RAF700 will have sufficient capacity for roof ventilation, cooling of your roof space and to remove warm or stale air from the interior.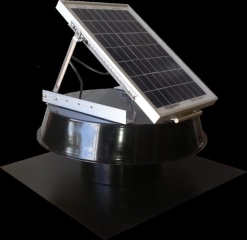 Portable or Mobile Home Ventilation
If your mobile home or portable building has a cathedral ceiling, the Solar Whiz whirlybirds can remove warm and stale air directly from the interior. Depending on which climate the cabin is located in – you may wish to install a closeable vent underneath the Solar Whiz to avoid heat loss in winter when the cabin is occupied! However, in order to keep the cabin fresh at all other times – you should leave the vents open to ensure effective cabin ventilation.
If your self contained accommodation is equipped with air conditioning – Solar Whiz whirlybirds will also save you money on your power bills – as the need for cooling will be reduced. Ventilation will also reduce the risk of the building becoming musty or developing mould.
Reduced Maintenance and More Returning Customers for Commercial Operators
If you are a holiday park owner (or rent out your own cabin) installing a Solar Whiz SW-RAF700, will:
Reduce maintenance costs
Eliminate the need for daily chores such as opening doors and windows
Secure the necessary ventilation to avoid to smells and dampness
Prevent "locked up" smells when unoccupied
Not to mention the potential loss of income from returning customers who may choose to look for alternative accommodation because of the discomfort caused by poor air quality or dampness without proper roof ventilation.
Why Not Just Install Regular Whirlybirds?
The average good quality whirlybird moves, according to studies, about 100m³. In order to keep the roof space temperatures close to the outside ambient temperature you will require 3-4 air changes an hour – and to compensate for resistance for the cooler replacement air entering the roof space as the hot air is removed – a significant airflow capacity is required. As a rule of thumb, Solar Whiz recommends a minimum capacity of 700 m³/h (SW 900) for a 100m² standard pitched roof for effective cabin ventilation. This is equivalent to approx. 7 whirlybirds! However, the Solar Whiz only requires 1 roof penetration!
In short, the SW-RAF700 is a powerful and cost-effective solar roof ventilation and cooling windmaster whirlybird alternative for small buildings, giving you the airflow capacity you need to beat the heat and prevent mould and mildew through effective cabin ventilation!
As many of us are aware – according to Wikipedia, occupants health and longevity is a major issue for portables or demountables – as they often are referred to in Australia. Here Wikipedia states:
"Portable classrooms are frequently criticized for presenting mould, moisture, comfort and unhealthy environment issues. However, when portable classrooms are properly set up and operated, experience has shown that they can present a very long useful life, low maintenance, and healthy, comfortable environments for all occupants". The same Wikipedia post goes to offer some advice for how to reduce moisture loads to prevent mould and mildew issues through roof ventilation of portables in hot and humid climates.
Learn more about ventilation and increasing comfort with a solar whirly vent by giving us a call on 1300 609 994.