Solar Whiz: Solar Roof Ventilation
The Solarwhiz Solar Roof Whirlybird  No Running Cost contributes directly towards the cooling of your  home throughout the hot parts of the year Up to x30 whirlybird power with $0 running cost.
What is the Solar Whiz?
The Solar Whiz is a powerful solar ventilator & heat extractor fan that operates completely without mains electricity. It is ideal for roof ventilation and home cooling in summer, and great for reducing moisture levels and condensation in the roof space in winter. The superior performance, as well as ability to adapt to different climates and applications, its ease of installation, and a flexible design specifically for Australian roofs have all underpinned the success for our roof cooling solar vent.

How Does The Solar Whiz Work With An Air Conditioner?
Eliminating the heat build up in your roof space (roof cooling) reduces the heat load on your ceiling, and stops heat from penetrating into your living space. This results in lower roof space temperatures as well as lower internal temperatures and could save you hundreds of dollars on cooling costs. When improving the efficiency of your existing air conditioning systems – your air conditioner won't need to work as hard when operating and the actual running time will be reduced – as you don't need to run the air conditioner as often.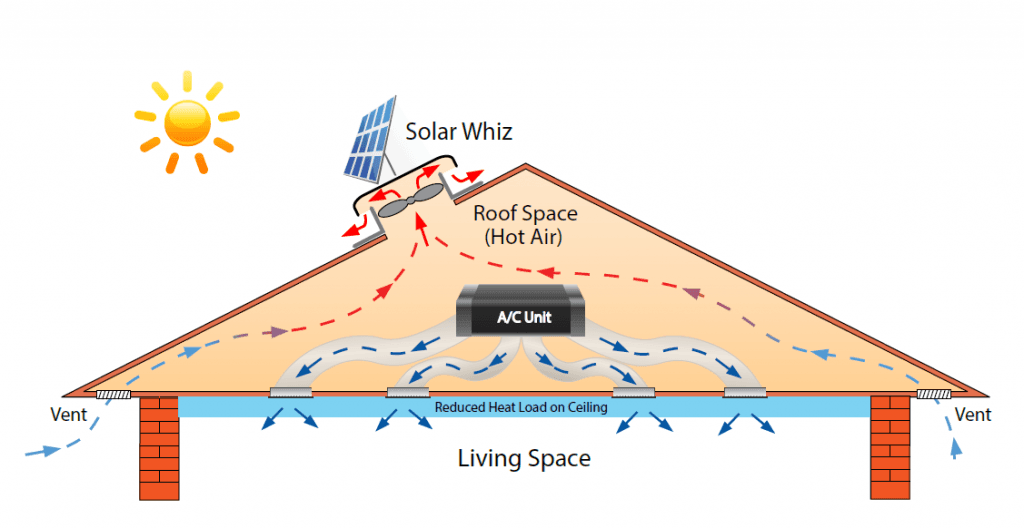 Solar Whiz: Key Features
Solar Whiz is a simple and effective roof extractor, however it has many applications and can be installed in various ways.
Those Are Just A Few Main Features, There Are Plenty More
Easy Installation & Setup

A Variety Of Sizes

No Running Costs

Commercial and Residential

DIY Available
Different Capacities Available

Thermostat Options Available

Up To x30 Times More Powerful Than A Whirlybird

Sleek Design

Designed For Australian Roofs

Reduces Damp Build Up

Fresh Air Contribution

Reduces Heat Build Up In The Roof Space
No Carbon Emission

Quiet Operation

Sub-Floor Ventilation Alternatives

Safe Low Voltage Installation

Easily Tilt To Attract Ultimate Sun

No Electrician Required

Night Pack Available
Solar Whiz Testimonials
The project has proved to be greatly successful and endeavors are now to expand and offer the same opportunity for neighboring schools in Queensland as well as around Australia.

Robbie Mills (Bright n Cool)
Solar Whiz fans will recirculate heated or cooled air through a rock thermal energy store located under the floor slab. This will allow stored warm air to flow into the building at night or early in the morning. On hot days cool air will flow from the thermal store to complement the in-ground cooling system.

Mildura Eco Living Center (Mildura, VIC)
For More Testimonials and Reviews Click Here!
Get The Solar Whiz Installed!