The Solar Whiz is a powerful home heat extraction and roof ventilation system without electricity bills or carbon emissions!
When Solar Whiz was first introduced into the market in late 2009 it immediately showed signs of superiority in performance as well as ability to adapt to different climates, installation applications and accessories. Since its introduction, it has become an increasingly popular and wide spread product and a definite leader in its class. The Solar Whiz is a powerful solar powered heat extraction fan that operates completely off the grid and is ideal for solar roof ventilation both in summer and winter.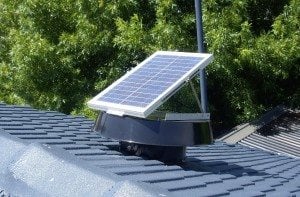 Most commonly, Solar Whiz is used to remove hot air from the roof/attic space, however it may also be used for removing heat directly from the interior of the building. A Solar Whiz will also protect the roof structure and help prevent mould and mildew in the winter months.
Eliminating the heat build up in your roof space reduces the heat load on your ceiling, and stops heat from penetrating into your living space. This results in lower internal temperatures and could save you hundreds of dollars on cooling costs by improving the efficiency of your existing air conditioning systems.
Solar Whiz can be used for: Homes Sheds, Stables, Offices, Factories, Schools, Aged Care Homes, Holiday Accommodation, Stables, Farms, Beach Houses, Cabins, Caravans, Multi Purpose Community Centers & Many More!
Solar Whiz- Ideal for Stables & Farms
Owners of stables or farms can now look after their animals' health and comfort whilst being environmentally conscious by installing a Solar Whiz- high volume fan to ventilate their stables and control air temperatures and quality. To read more about Solar Whiz and how it can benefit your stables or farm please follow this link.
Attic Ventilation
if you have decided to turn your roof space into a useful attic area – you will have experienced how warm attics get during the summer months – and probably don't use it much for 3-4 months of the year. If you install a Solar Whiz to extract the heat directly from the attic – you can reduce the temperature dramatically – and "claim back" this space!
Comfortable Indoor Climate & Environment
Roof temperatures throughout most of Australia often reach between 60-70 degrees (C) in the summer months. These high temperatures will – even with good insulation – eventually radiate heat down through the ceiling and increase the internal temperature.
The Solar Whiz cools your roof space by replacing the hot air with cooler air pulled in through vents under the eaves or other openings to the roof space. This normally enables you to maintain roof temperatures relatively close to the ambient temperature.
Solar Whiz is affordable, whisper quiet, and would benefit any home or indoor work environment.
Since its introduction, Solar Whiz has revolutionized the market for roof ventilation and heat extraction systems, as it, with a single unit, moves 10-30 times more air than a whirlybird! Making it faster and easier to install and provides a far more cost effective solution. Sometimes the Solar Whiz is referred to as a Solar Whirlybird.
Did You Know : One Solar Whiz solar fan moves 10-30 times more air than a whirlybird.
Roof Space Ventilation, Home Heat Extraction, Home Cooling
Other Solar Whiz Products
Solar Whiz supplies a range of other products to suit smaller places:
Car Whiz- The Car Whiz (solar can fan) is a cost effective and simple to install/remove solar powered heat extraction fan which will take the edge of the temperature in your car when parked in the sun. The Car Whiz is the ultimate solution to a scorching car in summer and the warmer months,  to read more on how it works and how it can benefit you please follow this link.
Mini Whiz- The Mini Whiz ventilation fan is designed for preventing condensation, mould, mildew, musty smells and dampness in small areas. The fans are solely powered by the sun and operate without any costs. The Mini Whiz is able to move around 60 cubic meters an hour! To see more on the Mini Whiz please follow this link.
Micro Whiz- The Micro Whiz ventilation fan is designed for preventing condensation, mould, mildew, musty smells and dampness in small areas for example; boats (boat fan), caravans, horse floats, vans, trailers and the like. The fans are entirely powered by the sun, and operate without any cost. Micro Whiz is ideal for marine and outdoor applications as it is made of marine grade stainless steel – water will only enter if the fan is submerged! To read more about the Micro Whiz please click here.
Inline Fans- For applications where installing a Solar Whiz may not be appropriate due to limited space, inline fans may be used as an alternative. GES offers three different sized inline fans,8, 16 and 25 Watts. The 25 Watt high capacity inline fan is predominantly used for applications requiring large amounts of air to ventilate their sub-floor areas. Global Eco Solutions (GES) recommends that sub-floor fans are powered by Solar Panels for the most effective sub-floor ventilation; however, all fans are available with a 12 volt power pack. To view more on the inline fans please click here.