Solar Whiz Commercial — Master Form
Case Studies
Business
MasterForm Systems Pty. Ltd.
Region
Preston, Victoria (3072)
Client's Needs
MasterForm Systems is a moderately-sized company that fabricates custom hobwork solutions for paving and construction. As with many engineering firms in Melbourne, they occupy a building designed and built in the 1930's that was not fit for the purpose of engineering or fabrication. It virtually had no natural ventilation. They eventually placed an office mezzanine directly over the workshop, where welders would work throughout the day. Fumes were beginning to accumulate throughout the day, as they have at least 4 welders operating at any one time, but in peak season they can have up to 8 welders.
They installed a commercial active-power 3-phase fan to extract fumes and exhaust from the welding work, but found the ventilation was not enough. One solution was to install more 3-phase fans, however the prices involved as well as running costs involved proved to be too great.
Cost of running per year: $1,655.64

Requires a crane to lift the units onto the rooftop,
Requires an electrician to assist with the installation,
Incredibly expensive RRP price for industrial 3-phase fans.
Our Solution
As a starting point we offered 3× SW-RAF10000s to be installed directly above the workshop, extracting the welding fumes overhead. The building's roller door at the front supplies fresh replacement air through the workplace (cutting room and workshop) and flushes the welding fumes out overhead through the workshop, achieving both cooler and more comfortable workplaces, AND welding fume extraction.
Solar Whiz Commercial's ROI stood out against competition at half the RRP price. Due to the building's natural shading, a No-PV option was offered, reducing the overall cost of the unit itself at the expense of being 100% reliant on mains power—which still runs far cheaper than competing products.
Cost of running per year: $122.64

May only require a scissor-lift to install,
Installed without the PV panel for cheaper base unit cost,
Just over half the cost of a normal industrial 3-phase fan.
Results
On a normal day where there's only 3-4 welders the system keeps the air moving and clear. On busier days with up to 8 workers on the floor, there is a slight raise in overall fumes, however it is still within acceptable limits. Should MasterForm put more welders on permanently, they will pursue the installation of more fans to keep up with the workload.
They've even mentioned that the airflow through the building is quite refreshing on a warm day.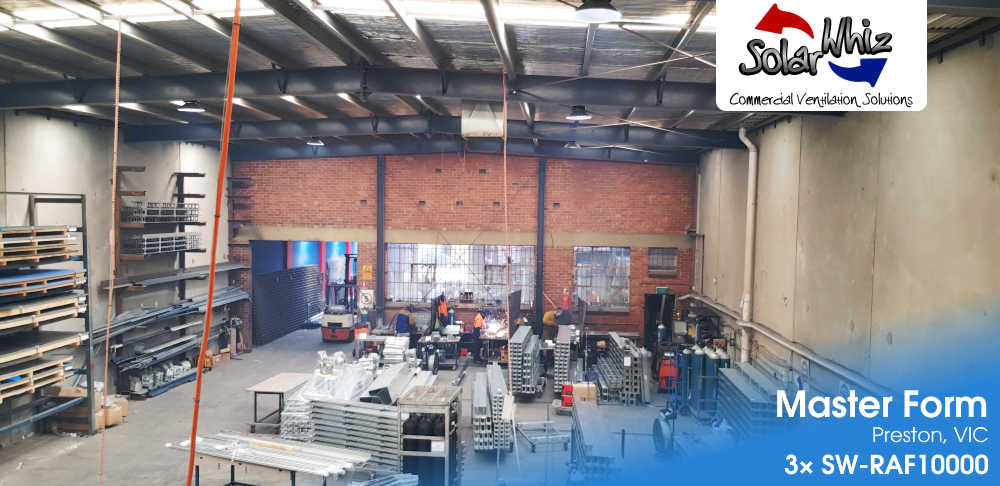 Exhaust extraction for fabricators is essential for health & comfort.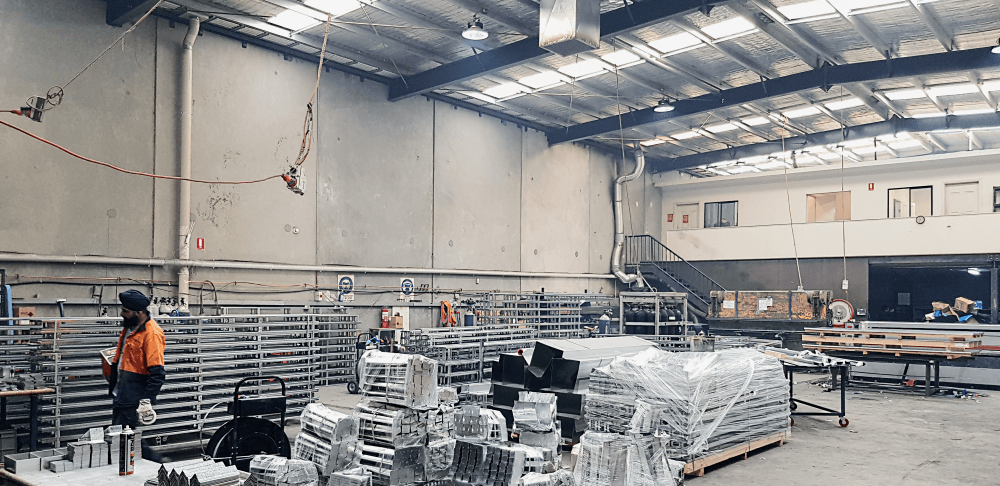 The interior, featuring the mezzanine office over the fabricator workshop.

"The Solar Whiz system has kept the overall fumes down in our workplace. MasterForm fabricate concrete hob formwork and custom formwork structures and products. We often have up to 4 welders in the workshop on a normal day, and our existing three-phase fan wasn't extracting enough of the fumes in the workshop.
The idea of installing another expensive three-phase fan as well as their running costs wasn't that attractive. Solar Whiz came to us with the option of either solar power or mains power or a combination of both, keeping running costs to a fraction of what another three-phase fan would've cost us.
3 Solar Whiz fans keep the fumes out of our workshop on your standard workday. There is some excess fume build-up when we have more welders on the floor, but we're in a position to install another if we start putting more welders on.
The team at Solar Whiz set the system up in a day, and did a great job without getting in the way of the team."