Ventilation in industrial workplaces is especially important because these environments most often struggle with poor air quality and heat issues. Effective industrial roof ventilators are crucial for good health and safety.
Poor Ventilation in the Workplace
Unfortunately, it is very common for workplaces to have poor ventilation. Many buildings were not designed with ventilation as a main concern so do not have very good natural airflow. Additionally, many people are not aware of the importance of ventilation so often overlook it completely or choose the cheapest option available.
Ventilation in industrial settings helps to control indoor temperatures and air quality. Proper ventilation will effectively extract heat and other air contaminants like dust and fumes, replacing them with cooler and cleaner outside air. Removing indoor air and replacing it with outdoor air using an industrial roof ventilator is called mechanical ventilation.
If a workplace has poor ventilation, heat and pollution can build up indoors, posing a serious threat to the health and safety of employees. This is why it's so important to have a good industrial ventilation system.
Purpose of an Industrial Ventilation System:
There are four main purposes of ventilation for commercial and industrial properties:
Ensure that there is a constant flow of fresh outdoor air. This helps to improve indoor air quality which is important for both long-term and short-term health.
Maintain a comfortable indoor temperature and levels of humidity. This helps to increase comfort and productivity levels.
Reduce the risk of fire or explosion.
Eliminate or lessen airborne pollutants.
At Solar Whiz we have a lot of experience installing industrial ventilation in commercial buildings. We have tackled issues relating to heat, humidity, fumes, and fire hazards. We also have experience installing in a large number of buildings with special requirements due to unusual interior layouts or building shapes.
Types of Industrial Ventilation Systems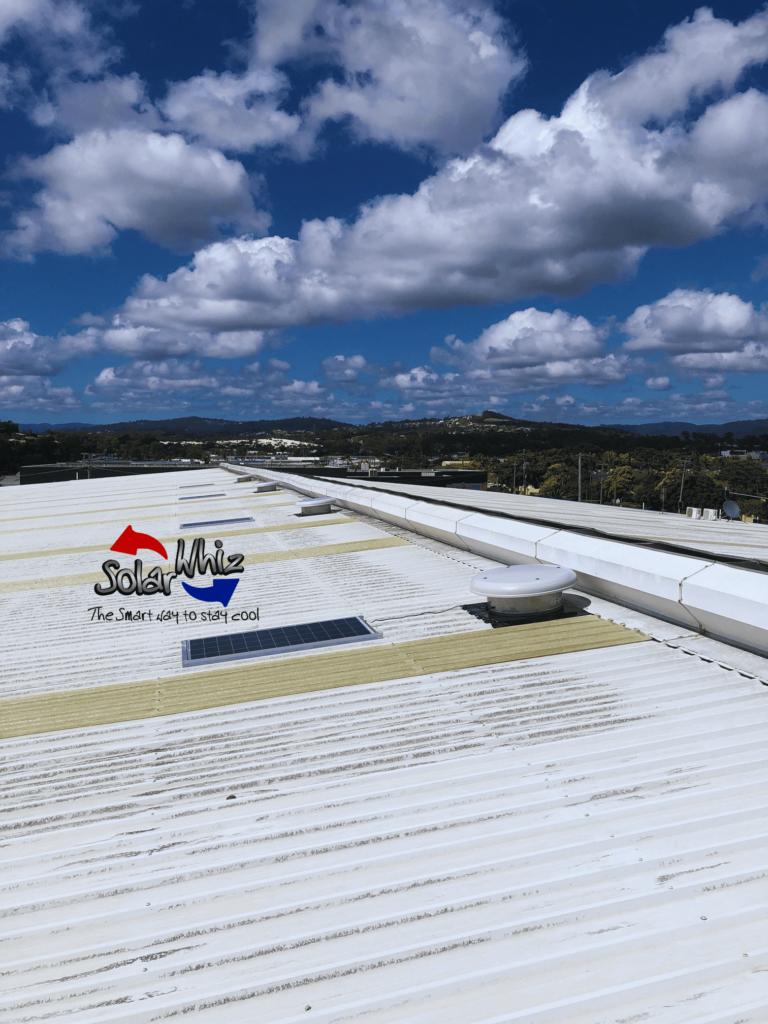 There are two main types of industrial ventilation systems used in industrial workplaces.
Dilution or General Ventilation

The aim of this type of ventilation is to dilute the concentration of pollutants in the air. This is generally achieved by introducing clean/fresh air into the indoor environment where there is contaminated air.

Local Exhaust Ventilation

The aim of this type of ventilation is to extract the polluted air and replace it with fresh and clean air.
Which type of industrial ventilation system is best for my workplace:
Local exhaust ventilation is generally a far more effective way to ensure a healthy indoor working environment. This is because the polluted air is being removed from the work environment, instead of just being diluted.
This method of extraction also actively introduces fresh air inside, which cools and refreshes the work area.
Overall, Solar Whiz offers a powerful and efficient industrial ventilation system that delivers results. Our fans have a capacity of up to 10,000m³/h and can operate with no or almost no operational costs. If your business or commercial property is struggling with any ventilation-related issues, get in contact with us today!