Solar Whiz for Effective Roof Ventilation
The Solar Whiz is a powerful solar roof ventilation system & heat extractor fan that operates completely without electricity. Roof ventilation is ideal for fresh air & home cooling in summer and great for reducing moisture levels and condensation in the roof space in winter. Solar Whiz roof fans have the ability to adapt to different climates and various applications. Its ease of installation and flexible design that suits Australian roofs have all underpinned the success for our solar roof vents.
Solar Whiz roof vents provide simple and effective roof ventilation, with many more benefits for you and your home. Roof vents can additionally reduce condensation, moisture, dust mites and provide asthma management for your family.
How Ventilation Can Cool Your Home
Eliminating the heat build up in your roof space with a roof ventilator reduces the heat load on your ceiling and stops heat from penetrating into your living space. This results in lower internal temperatures and could save you hundreds of dollars on cooling costs by improving the efficiency of your existing air conditioning systems.
What can the Solar Whiz extractor fan be used for?
Home ventilation
Sheds
Stables
Offices
Factories
Schools
Aged Care Homes
Holiday Accommodation
Farms
Beach Homes
Cabins
Caravans
Multi Purpose Community Centres & Many More!
Which roof ventilator model is right for me?
The SW-RAF700 (SW900) extractor fan is suitable for small rooms and ideally cabins/portables/sheds which will provide enough roof ventilation for a standard pitched area up to around 10 squares or 90 square meters.
The SW-RAF900 extractor fan will provide enough roof ventilation for a standard pitched home up to around 16 squares or 150 square metres.
The SW-RAF1400 extractor fan would be suitable for those who want extra roof ventilation power and improved results or people with larger homes up to about 25 squares or about 225 square metres.
The more powerful SW-RAF2100 extractor fan is suitable for extra large homes up to about 33 squares or 300 square meters – it is also ideal for smaller commercial applications where significant amounts of air need to be moved. For example warehouses, factories, office buildings, sheds, stables, etc.
The Solar Whiz currently has four different sized roof ventilators for our roof ventilation systems:
SW-RAF700 – Moves 700 m3/h (Cubic Metres of Air Per Hour)
SW-RAF900 – Moves 900 m3/h (Cubic Metres of Air Per Hour)
SW-RAF1400 – Moves 1400 m3/h (Cubic Metres of Air Per Hour)
SW-RAF2100 – Moves 2100 m3/h (Cubic Metres of Air Per Hour)
Your average whirlybird moves approximately 100 m3/h, so as you can see Solar Whiz roof ventilator moves x7 times to x21 times more air flow capacity.
Roof Ventilation Provides Reduced Need for Home Cooling
Roof temperatures throughout most of Australia often reach between 60-70 degrees (C) in the summer months. These high temperatures will – even with good insulation – eventually radiate heat down through the ceiling and increase the internal temperature – resulting in a need for home cooling units, unless adequate roof ventilation is ensured with solar roof vents.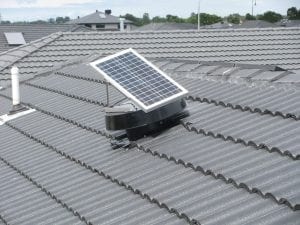 The Solar Whiz extractor fan provides natural ventilation and roof cooling by replacing the hot air with cooler air pulled in through roof vents, under the eaves or other openings to the roof space. This normally enables you to maintain roof temperatures relatively close to the ambient temperature – and as a "flow on" effect reduces the need for alternative home roof ventilation.
Solar Whiz roof ventilation is affordable, whisper quiet and would benefit any home or indoor work environment.
Find out more information about the Solar Whiz roof vent and see the improvements in your own home!