The Solar Roof Vent and You: Why Invest in Roof Ventilation?
The Solar Whiz serves as both a solar powered roof ventilation system and a heat extraction fan which runs independently from the power grid. A roof vent system is a quintessential component of any home to ensure moisture and condensation levels are optimal. Additionally, this is also key to keeping heat out of the roof throughout warmer seasons. A Solar Whiz roof fan is capable of adapting to different temperatures & climates.
The Solar Whiz is easy to install, and flexible enough to fit almost all kinds of Australian roofs. Solar Whiz units provide optimal heat dissipation for all types of homes.
A roof vent from Solar Whiz provides simple yet potent roof ventilation. It will also provide a wealth of benefits for you and your home. In addition to heat extraction, a roof vent is, furthermore, able to reduce moisture and condensation. This will assist you in dust mite management, and reduce the health risks for asthma sufferers.
How a Roof Vent Cools Your Home
A priority for keeping any home cool through a hot summer should be investing in a roof ventilator. This allows you to dissipate the ambient heat contained in your roof, which will seep down into your living space. As a result, this keeps the heat out of your roof which results in lower overall internal temperature.
Additionally, it could save you on your power bill by keeping cooling costs down through reducing the overall workload put on your air conditioning solutions.
How could I use a Solar Whiz extractor fan?
Offices,
Cabins,
Caravans,
Aged Care Homes,
Farms,
Stables,
Beach Homes,
Holiday Accommodation,
The Solar Whiz presently has four different roof vent models for roof ventilation:
SW-AU-R-15, SW-AU-R-25, and the SW-AU-R-40. They are capable of moving between 1200 cubic metres per hour, to 2300 cubic metres per hour for larger commercial models.
Which Roof Ventilation Unit is Ideal for me?
The SW-AU-R-15 extractor fan provides powerful roof ventilation for pitched homes up to around 16 squares or 150 square metres.
Our SW-AU-R-25 extractor fan is a suitable & sustainable system for stronger roof ventilation power and better results. This will suit those with larger homes up to about 25 squares or about 225 square metres.
The powerful SW-AU-R-40 extractor fan is ideal for large homes up to about 33 squares or 300 square meters. It is also ideal for smaller commercial properties where large-scale circulation is required, such as factories, sheds, stables, office buildings, or warehouses, etc.
Did you know that the average whirlybird only moves approximately 100 m3/h, while our Solar Whiz roof ventilator circulates 12 to 23 times more air? Find out more about whirlybirds versus solar roof ventilation.
Roof Ventilation & Cooling your Home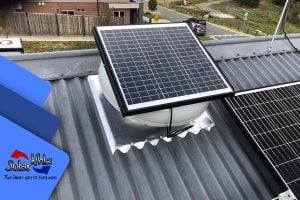 The average roof temperature for most Australian homes often reaches scorching temperatures up to, and around 60-70 °C degrees through summer. This allows heat, even with insulation, to radiate through your ceiling. Consequently, this throttles the interior temperature, forcing you to rely on hard-working home cooling applications. Therefore, reliable roof ventilation should be sought out with solar roof ventilation.
The Solar Whiz roof ventilation system can remove hot air from the roof space and replace it with the cooler air outside by pulling the ambient air through roof vents, through the openings along your ceiling, or through the eaves. With the raw power of the Solar Whiz unit, this enables you to keep temperatures near the temperature outside—which in turn reduces the strain, and impact on your home cooling systems!
Solar Whiz roof ventilation is cost-effective, quiet, and beneficial for all kinds of homes, or workspace.
Find out more about our Solar Whiz roof vent systems and see these cooling changes in your own home!