How Does An Exhaust Fan Work?
Exhaust fans are fans installed on your roof or ceiling that extract polluted inside air. You will most likely have heard of them used in bathrooms and kitchens where they are used to remove moisture. Moisture and condensation can come from the steam from cooking or showering. Fresh air is dragged inside through openings like windows and vents as the exhaust fan sucks out the hot and humid indoor air.
A solar roof exhaust fan like Solar Whiz does the same thing but uses solar power to operate the fan. The standard installation we use works by extracting the hot air that builds up in your ceiling space. This ventilation method drags cooler outside air in through eave vents and works to reduce the heat load on your ceiling. Less heat in your roof space means there is less transfer of heat into your living areas.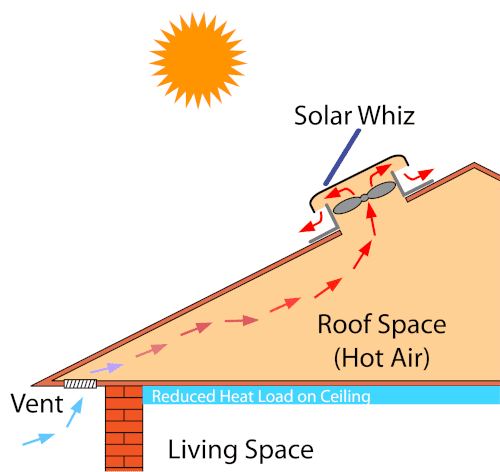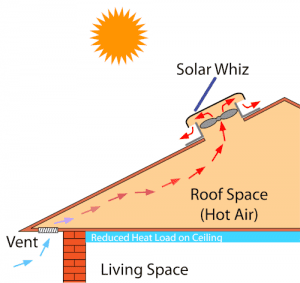 We have explained a number of ways to ventilate your home here. We have 3 primary installation methods that each ventilate your home in a slightly different way. If you would like to know which method we recommend for your home, give us a call or fill in our quote form!
Do Solar-Powered Roof Fans Work At Night?
Our solar exhaust fan can work at night. Using our night operations kit we can back up the system with mains power, letting you switch the system over so that it can run overnight. This does mean that the unit is not operating on solar power, but the energy consumption is minimal and barely noticeable.
The night operations kit can also be used to 'top-up' the system in overcast conditions. Our units will still ventilate in low-light conditions, but not at their full capacity. This is an easy way to boost the effectiveness of the unit with almost negligible cost.
You can also include a thermostat that gives you control over when the unit operates. A solar-powered exhaust fan with thermostat is useful if you want to start or stop ventilating when your roof reaches a certain temperature. You can also shut the system off completely if you don't need it. We have both fixed and adjustable thermostats available.
How Much Does It Cost To Install A Solar Roof Fan?
The size of the unit, the number of units, and the accessories included will all impact the cost of the solar exhaust fan. The installation cost will also depend on how many units you have and how difficult it is to secure them to your roof.
The up-front cost of getting a solar roof exhaust fan like Solar Whiz can be confronting. But it is important to remember that they operate with zero running costs. Plus there are no carbon emissions! A Solar Whiz system is a powerful, energy-efficient, and environmentally-friendly ventilation system that can be set and forgotten.
Fill out our price check form or contact us directly for more information!
Are Solar Exhaust Fans Worth It?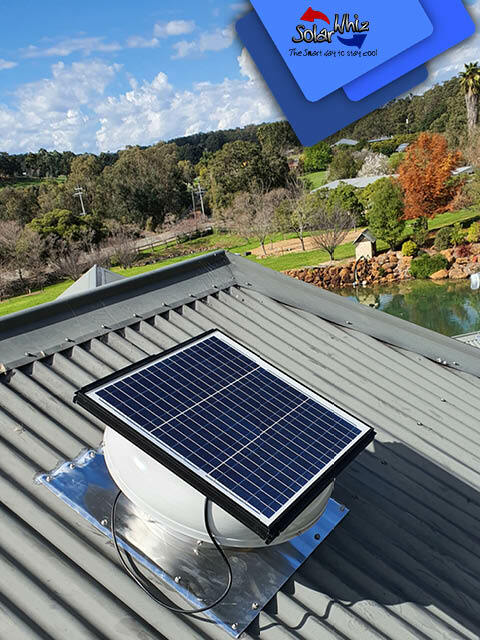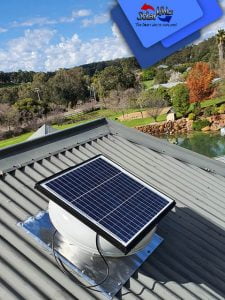 We believe that they are. In fact, we've spent 12 years in the business because we believe solar roof exhaust fans are worth the cost. Roof ventilation is important for indoor air quality, comfort levels, and the reduction of mould.
Removing excess heat from your roof space using a solar exhaust fan is an efficient and cost-effective way to keep your home cool without relying solely on air-conditioners. The amount of heat that is transferred into your living space is greatly reduced when there is less heat in your roof.
Our solar exhaust fans are great at extracting moist air that builds up in your home and roof space during cooler and/or wetter weather. It's vital that your home stays dry to limit mould growth which can have serious health and structural consequences.
Improving the Efficiency of Air-Conditioners and Evaporative Coolers
Reducing the heat load on your home using roof ventilation helps your air-conditioning system get better results without using as much energy. This is because your home won't be as hot in the first place. Also, the system itself won't be located in a hot and stuffy roof space that negatively impacts its efficiency.
Additionally, you can boost the performance of your evaporative cooling system with proper ventilation. That's because our units can work in cooperation with existing cooling systems by removing excessive moisture. This is especially relevant on high-humidity days that typically limit the performance of evaporative coolers.
Frequently Asked Questions
Do solar powered exhaust fans work?
Solar attic fans can aid with attic ventilation, and since they are powered by the sun, you won't need to use any additional electricity. Consequently, solar attic fans cool down your home by removing extra heat.
Is a solar vent worth it?
A solar roof vent can help you save up to 30% on energy costs. These reasonably priced, eco-friendly fittings are a smart way to maintain ideal attic temperatures. Additionally, because they are solar-powered, you may save money all year round because they use free energy.
Are solar attic fans worth the money?
Since solar attic fans don't pull cold air away from your air-conditioned home and are cheaper to operate than electric attic fans, they are typically preferable to electric attic fans. Electric attic fans, on the other hand, don't require sunlight but rely on power from the grid to operate.
Do solar attic fans work at night?
Yes, solar roof vents work at night through a night pack allowing your solar roof vents to continue running after sunset or at full capacity in overcast conditions.