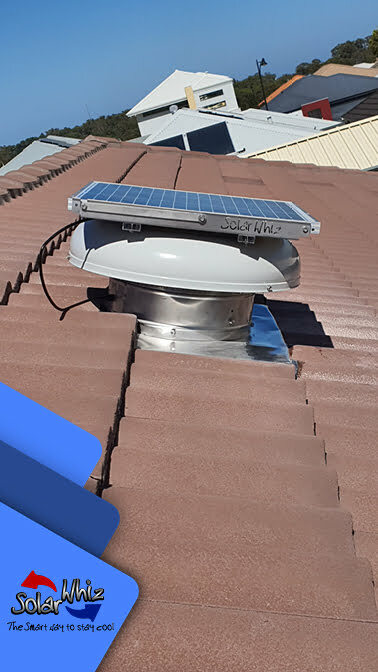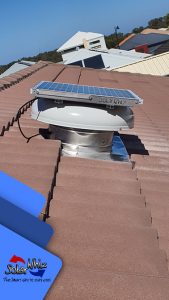 Solar-powered fans are a great way to achieve good ventilation in your home without any additional energy costs. Solar Whiz is a market-leading, Australian-made product that delivers powerful and efficient solar powered fans and ventilation solutions.
Before purchasing, read up about these 7 essential things you might not have known about solar-powered fans.
1. Solar-Powered Fans Work At Night And In Overcast Conditions Using A Night Kit
Solar Whiz offers an optional night operations kit as an add-on to our solar powered fans and ventilation systems. This works by switching the system over to mains power when there isn't enough sun to power the fan. A mains-powered backup system can be used to operate the solar power fans overnight, or it can be used to 'top-up' the fan's operation during the day when it is overcast.
The Solar Whiz night ops kit gives you extra use out of your solar ventilation system. It can be especially useful to introduce cool air into the roof space overnight, giving your house a sort of 'buffer' before the hot summer sun heats up your roof in the morning. This effectively gives you a 'head start' on the day's heat.
2. Solar Powered Fans Can Be Turned On And Off At Set Temperatures With An Adjustable Thermostat
In addition to our night ops kit, Solar Whiz also offers fixed and adjustable thermostats. These help you control when the solar-powered fans turn off and on.
During summer you may want your ventilation system to start earlier in the day, meaning you would lower the start temperature.
During winter it may be more important to keep heat in your roof. In these cases, you may set the start temperature higher. However, keep in mind that it is still important to ventilate your roof space during winter to reduce moisture, condensation and mould.
3. Value For Money: Solar-Powered Fans Are More Affordable And Better Value Than Industrial Whirlybirds
On the surface it may seem like traditional wind-powered industrial whirlybirds are more affordable than Solar Whiz solar powered fans. After all, whirlybirds can be found in almost any price bracket.
However, as we've covered before on our blog, we firmly believe that solar-powered fans are worth the cost.
That's because whirlybirds depend on wind power to extract heat from your ceiling or roof space. This is an unreliable source of energy as it is not always windy when you need it to be, and a lot of the time it is windy when you'd rather keep the heat inside. In addition to wind power being a bad choice for roof ventilation, whirlybirds simply don't have the airflow capacity they need to make a difference to your roof space. So, even though you are saving money on installing a cheaper industrial whirlybird, you're not actually getting any of the benefits that a roof ventilation system is for.
Additionally, industrial whirlybirds have more exposed moving parts compared to solar power fans like Solar Whiz. That means that whirlybirds are far more likely to break down, rust, and catch debris in their turbines.
4. Solar Powered Fans Are Not As Noisy As Whirlybirds
Whirlybirds are prone to rust. That means that their bearing experience more wears and tear and grind against each other. This creates a grinding/squeaking sound as the whirlybird spins. In some cases, this sound can be extremely loud and unpleasant.
Solar-powered fans have fan caps on them that protect the moving parts from the elements. As a result, our solar-powered fans are far more unlikely to degrade due to weather exposure. Our solar-powered fans also don't have bearings that move against each other, so there's no chance of them grinding and producing sound!
5. Solar-Powered Fans Do Not Require Regular Maintenance, Unlike Whirlybirds
Because of their exposed parts and bearings, whirlybirds will need to be
cleaned out and lubricated
every so often. They require repairs, regular lubrication, and cleaning. And when the bearings get rusty its turbines will slow down or prevent it from spinning altogether. Solar powered fans do not need to be maintained once they have been installed, making them an excellent 'set and forget' ventilation option.
6. Solar Powered Fans Are More Effective For Cooling Than Big Ass Fans
We have written about Big Ass Fans before on our blog:
Solar powered fans like Solar Whiz do a very different thing to Big Ass Fans. Solar Whiz extracts hot, humid, polluted inside air and replaces it with cooler, fresher, drier outdoor air. In comparison, Big Ass Fans move large volumes of air around the indoor space. This can be great for air distribution, but bigass fans don't actually remove hot air.
This is why solar-powered fans are a much better solution for cooling than Big Ass Fans.
7. Solar Whiz Roof Ventilators Are Made In Australia And Are Built To Suit The Harsh Australian Climate
Solar Whiz is proudly Australian-made and specifically designed to be effective in the unique Australian climate. Our product specialises in keeping Australian homes and businesses cool.
Other products use the same design as international versions of the same product. They are also typically made overseas and shipped to Australia without any changes made.
Solar Whiz offers a hardy and durable product made locally. This also gives us far more control and knowledge of our product specifications as we have a far greater ability to test our units and modify them according to our needs. Most other ventilators do not test that the manufacturer's specifications are what they say they are!