Solar powered fans are an incredibly versatile and adaptable ventilation solution. Solar Whiz has a lot of experience installing fans in a variety of locations such as the ones we've outlined below.
1. Solar-Powered Fans For Homes
Our most common type of installation is for homes. Solar Whiz domestic units include the SW-AU-R-15, SW-AU-R-28, and SW-AU-R-40. Having 3 different sizes of solar powered fans means that we can provide suitable solutions for houses with roof spaces of any size, for the most suitable price. For example, there's no point in installing an SW-AU-R-40 in a house with a roof space of less than 120m³, because the SW-AU-R-15 moves more than enough air for the required ventilation. We don't make our customers buy the biggest and most expensive option when a smaller (and more affordable) option will achieve the results needed.
2. Solar-Powered Fans For Sheds
Sheds are another common installation type for a Solar Whiz solar-powered fan. This includes both large-scale agricultural shed ventilation and small-scale backyard sheds.
Sheds with agricultural purposes have high ventilation standards that must be met for the health, safety, and comfort of animals. Livestock in cattle-keeping must be provided with an abundance of fresh air, whilst heat and gas must be removed. This is no easy feat as cows are known to produce large amounts of their own heat and gas. Poultry sheds also experience similar difficulties in maintaining a healthy environment for large numbers of birds. Solar-powered fans are an ideal addition to any kind of agricultural shed as we have highlighted in our other blog posts:
Backyard sheds are increasingly being used for a number of different purposes. This might include home offices, workshops, playrooms, or granny flats. Regardless of their use, it is incredibly important that these spaces are well-ventilated and at Solar Whiz we believe our smaller solar-powered fan is an ideal option.
3. Solar Powered Fans For Warehouses
Solar Whiz commercial ventilation fans are well-known in the Australian market for delivering effective warehouse ventilation solutions. We offer 2 commercial solar powered fan sizes:
the SW-AU-C-110, capable of extracting up to 7,000m³/h of air,
the SW-AU-C-155, capable of extracting up to 10,000m³/h of air.
With these two solar powered fans available we are able to service warehouses of any size; large or small!
4. Solar Powered Fans For Workshops and Factories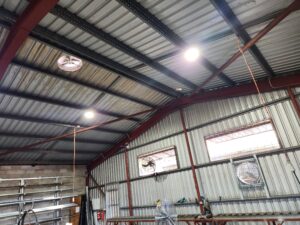 Workshops and factories generally house a lot of machinery that generates heat and/or fumes. It is for this reason that many workshops and factories of all sizes come to Solar Whiz for a ventilation solution. Aside from our solar powered fans boasting market-leading performance, they also operate best when you need them most; during the working day! It is most important to be extracting heat and other pollutants whilst the workshop is being used to maintain a healthy and comfortable working environment. A Solar Whiz solar powered fan will deliver the extraction you need, when you need it, without any running costs!
We are proud to say that Solar Whiz has a great deal of experience installing for factories. If you are interested in finding out more about the different ways we've helped businesses please check out our case studies:
5. Solar Powered Fans For Schools
Covid-19 has highlighted the importance of good ventilation and air quality in schools. The Victorian Government emphasises the use of ventilation to minimise the transmission of all air-borne diseases, not just Covid-19. In addition to preventing the spread of illness, good air quality and proper school ventilation using solar powered fans improve the comfort of the learning environment. This helps both students and teachers to perform better in a space as high air quality optimises brain function and lifts mood.
6. Solar Powered Fans For Gymnasiums
Gyms and sports centres are obvious examples of spaces that need good ventilation and air circulation. Gym ventilation is important for removing air pollutants from sweat and heavy breathing, replacing them with fresh, clean air. It is also crucial for moisture control, which plays a role in maintaining the sports and gym equipment that a facility might have. Moisture and condensation are particularly an issue for indoor swimming pools and centres.
Check out how Solar Whiz solar powered fans help Active Gymnastics improve their ventilation by actively extracting the heat buildup in their gymnastic facilities.
7. Solar Powered Fan For Subfloors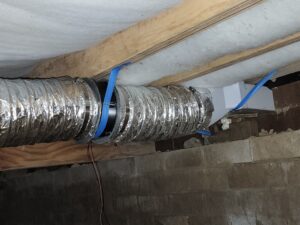 A solar-powered fan is not only used for roof ventilation! They are also great solutions for subfloor spaces that frequently have ventilation issues. As we have described before, subfloor ventilation is crucial for maintaining a healthy and structurally sound home. Homes with poorly ventilated subfloor spaces are likely to struggle with window condensation, mould, and dust mites. Check out our subfloor ventilation pages to see how our solar powered fan could help you!